Graduate Studies in Teacher Education (TEP)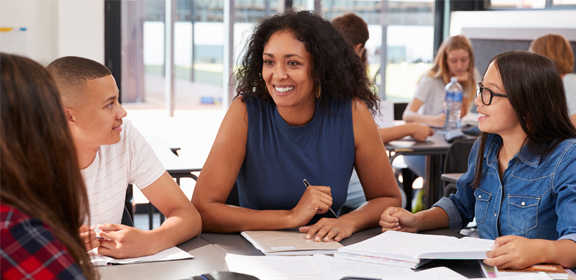 Colorado State University Pueblo's Graduate Studies in Teacher Education Program (TEP) provides a broad array of post-baccalaureate education programs with a strong professional focus and firm grounding in the liberal arts and sciences. We deliver high quality graduate credit activity-oriented professional development experiences for post-baccalaureate students in the primary and secondary education industry.

Graduate workshop formats vary from traditional face-to-face to correspondence and online courses delivered nationwide through a series of academic partnerships between the University and third-party providers.

Testimonials:
"Thank you so much Jonni! I really appreciate all of your help and I highly recommended CSU Pueblo. You have all made this experience so easy for me." 
- CSU Pueblo TEP Student
"Thank you! This is a great opportunity for our students. We truly appreciate CSU Pueblo and you have always been one of the best colleges to work with."
- The Learning Tree Professional (TEP Provider)
ATTENTION STUDENTS: Please keep in mind that grades will now take up to 24 to 48 hours to roll to your transcript. If you need your transcript by a certain date please plan ahead for this processing time to request your official transcript. We appreciate your due diligence to verify your unofficial transcript before ordering your official transcript. If you have questions about the status of your transcript order please call 1-719-549-2674.
TEP STUDENTS: If you are needing to access your student account you will need to ACTIVATE your NET ID.
To activate your NET ID click here and follow the instructions.
Once you have successfully activated your NET ID you will need to wait one hour to access your student account. Here is the link to access your student account with your NET ID credentials to view your unofficial transcripts.