Prospective Students
Take the First Step Towards a Successful Future
Find Your Passion. Advance Your Education.

At CSU Pueblo, our top priority is to provide an accessible, affordable education to anyone who wants to further themselves. By offering many different ways to learn, for many different types of students, we've created a university for all people. Whether you're joining us after high school, returning as an adult, prefer online classes, or are ready to level up your degree, CSU Pueblo has resources to help. Here, our goal is to support you in the way that's right for you.
Now it's time to officially enroll! Learn more about our degree programs, the application process, and much more. Get your enrollment guide and important next steps, campus tours, and connecting with current students and staff.
Choose the type of student you are and learn more about how to apply to CSU Pueblo
How will 2022 look at CSU Pueblo?
CSU Pueblo is committed to providing students with top-quality, accessible learning, now more than ever. The entire campus community is focused on your health and wellbeing, and providing a flexible and safe environment where you can live, learn, and be successful. Our goal with our 2022 semesters is to meet students where they are (and where they're comfortable) by offering face-to-face, hybrid, and online learning. This includes providing flexible course options, quality student advising and tutoring, accessible financial and business services, and a mix of in-person and virtual recreational, residential, student life, and support services across campus.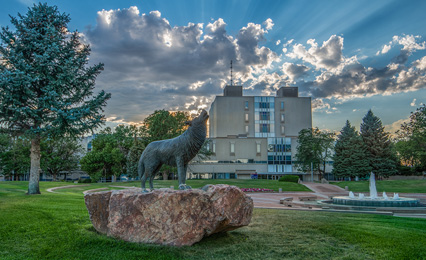 Get to Know CSU Pueblo. Discover the Possibilities for Your Degree.
CSU Pueblo offers a wide selection of degrees to help you fulfill your academic goals. Want to learn more about the programs we offer? Connect with our faculty and expert staff who are ready to answer your questions.