Military Students and Veterans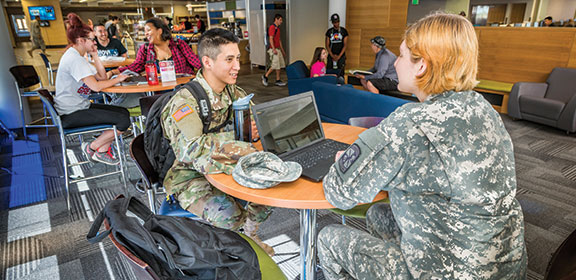 We're committed to providing the services necessary for veterans, active duty military, and dependents of military necessary for you to attend and succeed in college.
Military Experience and Occupation Credits
CSU-Pueblo offers a full review of all previous military coursework and/or experience in an effort to support the exemplary service of our nation's military and veteran student population.
Review of applicant materials is designed to provide you with the maximum amount of credit for your previous education and training. Please submit official documentation for all completed military coursework and/or experience for review.  Information for applying and submitting transcripts and scores is found on our "getting started" webpage.
Our established transfer equivalencies, informed by ACE recommendations, may be viewed using Transferology which includes CLEP and DSST scores, plus Defense Language Institute credits. Please be aware that the credit recommended by ACE does not guarantee the awarding of CSU-Pueblo credit for that course or experience. Credit for general education and some other courses as recommended by ACE is already coded in Transferology and will automatically be recorded. For additional courses or experiences which may be applicable to a major, students are encouraged work with the chair of the appropriate discipline department and registrar's office for assistance.
Military and Veterans Success Center
In most cases, the Military and Veterans Success Center can provide those services and help you apply for benefits in the following categories:
Active Duty
National Guard
Veteran
Discharged or Separated Service
Veteran's dependent (spouse, surviving spouse, or child)
Disabled Veteran
For more information go to the MVSC website or stop by our office in Admin 130A. You can also call us at 719.549.2910 or send us an email at veteransuccess@csupueblo.edu.
New Students
The Department of Veterans Affairs is now accepting and processing applications for the Post-9/11 G.I. Bill. You should complete and submit the application form available online and will receive a letter explaining the V.A.'s decision regarding your eligibility for the program.
The application form requires that individuals currently eligible for benefits under the Montgomery G.I. BILL - Active Duty (MGIB-AD), Montgomery G.I. Bill - Selected Reserve (MGIB-SR), or the Reserve Educational Assistance Program (REAP) make an irrevocable election from their existing program to the Post-9/11 G.I. Bill.
Access the application form that includes instructions for submission.
The Post-9/11 G.I. Bill program will pay eligible individuals:
Tuition & fees directly to the school not to exceed the maximum in-state tuition & fees at a public Institution of Higher Learning. All Colorado residents and most non-resident veterans will have all of their tuition and fees paid.
A monthly housing allowance - BAH Calculator will help to determine the allowance for the Colorado State University-Pueblo area (zip code 81001).
An annual books & supplies stipend of $1,000 paid proportionately based on enrollment
A one-time rural benefit payment for eligible individuals see comparison chart for more information.
Extended Studies
The Division of Extended Studies makes courses available at convenient Colorado Springs locations as well as online via distance education. Visit the Extended Studies website with questions or to get started.