High School Programs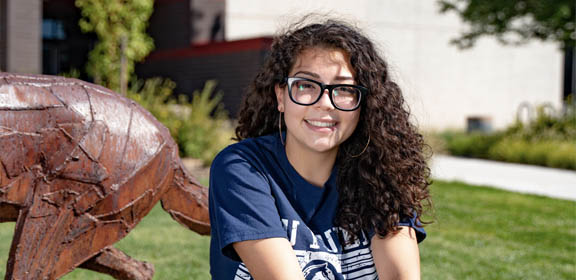 About the Programs
Welcome to High School Programs in the Division of Extended Studies at CSU Pueblo! CSU Pueblo partners with secondary schools across the state to deliver select university courses in high school classrooms through our Dual Enrollment/Senior to Sophomore (STS) program. In addition, the high school program provides opportunities for Pueblo area high school students to earn college credit on the CSU Pueblo campus via Concurrent Enrollment (CE).
Benefits of our High School Programs include:
Guaranteed transfer credit to public universities

Early college experience

Access to tutoring services, rec center and more (if taking at least 6 credits)

Save money and get ahead!
Concurrent Enrollment
Concurrent Enrollment allows high school students to earn college and high school credit simultaneously by attending classes in person on the CSU Pueblo campus. Concurrent Enrollment students can earn General Education course credit and program-specific course credit in CSU Pueblo classes that count toward high school graduation credit and bachelor's degree requirements. In addition, students who enroll in GT-Pathways courses are assured "Guaranteed Transfer" credit to any public college or university in the state. 
Perhaps the most appealing feature of the Concurrent Enrollment program is that CSU Pueblo partner schools pay tuition on behalf of their students, leaving little to no cost for books and fees to students and their parents, making college credit attainable and affordable for families and students.
Dual Enrollment/Senior to Sophomore
The Senior to Sophomore program allows high school students to take college courses from the comfort of their high school classrooms. The success of our Senior to Sophomore program is rooted in support of the University's academic departments and their involvement with the high school faculty teaching the courses. As a result, the course content, quality, and rigor are equal to those same courses taught on the University's main campus and transcribed accordingly. Save money on travel and book costs when you enroll in the STS program.
Get Started
Interested parents and students should contact their high school counselor for more information on Senior to Sophomore or Concurrent Enrollment to see which best fits their needs. Parents can also speak with High School Programs staff to see when they will be on-site at the high school.
Interested partners or departments should likewise make contact for further information or to schedule a visit to your location by one of our staff members. 
If your high school is interested in becoming a Senior to Sophomore (STS) school, please contact us at 719.549.2627 or highschoolprograms@csupueblo.edu. We can provide you with templates of syllabi currently being used for the program or set an appointment for our representatives to come to your school to present to either the administrative staff or interested teachers.

Call 800.388.6154 or 719.549.2734 or email csup_highschoolprograms@csupueblo.edu.