Military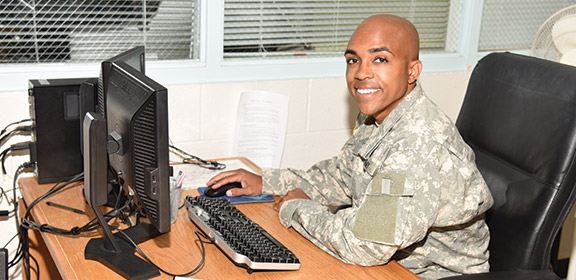 Colorado State University Pueblo has a full-time office presence at the Fort Carson Education Center operating under a Memorandum of Understanding with the Department of the Army. Here we hold evening General Education classes, along with classes in Social Work, Sociology, and Criminology.
Tuition Assistance
The Tuition Assistance (TA) Program provides financial assistance for voluntary off-duty civilian education programs in support of a Soldier's professional and personal self-development goals. All Soldiers (officers, warrant officers, enlisted) on active duty, National Guard, Reserve Soldiers on active duty, and TPU Soldiers are authorized to participate in the TA program.
The Army Tuition Assistance (TA) Program will pay 100 percent of tuition costs up to the DoD semester hour cap of $250 per semester with a fiscal cap of up to 16 semester hours of TA funded courses (not to exceed $4,000 per fiscal year). TA is requested on a course-by-course basis, and each course must be part of an approved degree program. Fiscal year runs from 1 October through 30 September.
Recognition
CSU Pueblo is a Purple Heart Designated University, and has been nationally recognized as a military friendly school. 

 G.I Jobs magazine name Colorado State University-Pueblo to the Military Friendly Schools list of the top 15% of all U.S. colleges, universities and trade schools doing the most to embrace America's veterans and active-duty military pursing an education.

Military Advanced Education included Colorado State University-Pueblo in their 2014 Guide to Top Military –Friendly Colleges and Universities.

Colorado State University-Pueblo is a participant of the Yellow Ribbon Program.

Colorado State University-Pueblo's Master of Business Administration degree was ranked among the top 64 in the country by Military Times' Best for Vets: Business Schools 2014 rankings. The top 64 business schools are mentioned, and the top 20 are compared in the issues of Army Times, Navy Times, Air Force Times and Marine Corps Times on newsstands the week of March 10.