Military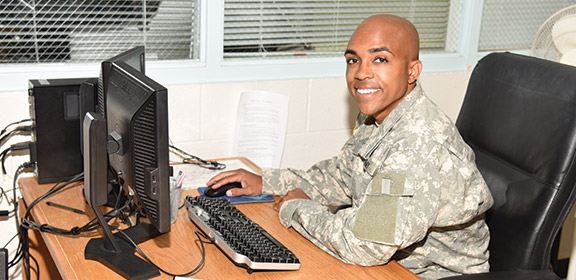 Colorado State University Pueblo has a full-time office presence at the Fort Carson Education Center operating under a Memorandum of Understanding with the Department of the Army.
Tuition Assistance
The Tuition Assistance (TA) Program provides financial assistance for voluntary off-duty civilian education programs in support of a Soldier's professional and personal self-development goals. All Soldiers (officers, warrant officers, enlisted) on active duty, National Guard, Reserve Soldiers on active duty, and TPU Soldiers are authorized to participate in the TA program.
The Army Tuition Assistance (TA) Program will pay 100 percent of tuition costs up to the DoD semester hour cap of $250 per semester with a fiscal cap of up to 16 semester hours of TA funded courses (not to exceed $4,000 per fiscal year). TA is requested on a course-by-course basis, and each course must be part of an approved degree program. Fiscal year runs from 1 October through 30 September. The service member needs to attend a (TA) briefing and meet with a counselor before requesting (TA).
Active Duty Members Using TA Benefits
Recognition
CSU Pueblo is a Purple Heart Designated University, and has been nationally recognized as a military friendly school. 

Colorado State University Pueblo is a participant of the Yellow Ribbon Program.