Chemical Safety Guidelines
Law requires all chemical manufacturers to determine the physical, health and other hazards of all chemical products that they market. Manufacturers must communicate this information to all purchasers in the form of an SDS. The SDS communicates the potential hazards of a chemical. SDS are usually sent by the manufacturer with each chemical purchase. SDS can be found at the following web sites:

Copies of all SDS received from a manufacturer must be kept on file for 30 years. All persons engaged in University activities involving hazardous materials must have access to all applicable SDS. The SDS must be available for employees and students to review before beginning each chemical use activity. The MSDS must be the most recent version and easily accessible. Immediate access to hard copies of the SDS must be made available in each work area in case of emergency situations.

OSHA specifies the information to be included on an SDS but does not describe the precise format.

The main headings on a typical SDS with appropriate information are as follows:
Chemical Identity:

The chemical and common name (s) must be provided for each chemical.

Manufacturer's Identity:

The name of the manufacturer and their location is important.

Hazardous Ingredients:

Chemical and common names of all ingredients determined to be health hazards. Those comprising less than 1% (0.1% for carcinogens) of the mixture must be listed if they can still exceed an established Permissible Exposure LEL) or Threshold Limit Value (TLV) or present a physical hazard 

Physical and Chemical Characteristics:

Examples are vapor density, vapor pressure, flash point, flammable limits, odor, boiling point, heat of combustion, and molecular or formula weight. 

Fire and Explosion Hazard Data:

The fire hazards of the chemical and the conditions under which it could ignite or explode must be identified. Fire fighting methods and the extinguishing agent of choice should be listed.

Reactivity Data:

Information should be provided on possible interaction with other chemicals.

Health Hazards:

This section describes the nature of the hazardous affect resulting from exposure if no proper first aid is given. The primary routes of exposure such as inhalation, ingestion, skin, or eyes should be listed along with the affects, signs, and symptoms that could occur from acute and chronic exposure.

Precautions for Safe Handling and Use:

This information is important in case the chemical is accidentally released or spilled. Precautions for safe handling and storage must be included, and the EPA waste disposal method is sometimes included in this section.

Control Measures:

Control measures are those taken to protect individuals from exposure. These include engineering controls, personal protective equipment, safe handling procedures, and special information necessary to prevent exposure.

Disposal Procedures:

Often the disposal procedures provided on MSDS do not consider the regulatory requirements in place at a facility and should not be followed. Environmental Health Services should be contacted regarding disposal procedures.
SDS are not required for biological/infectious agents or physical hazards encountered in the workplace. CSU-Pueblo Environmental Health & Safety will maintain copies of all SDS's. A copy of any individual SDS  or questions can be obtained from Environmental Health Services or your Dean/Chair, Building Lab Coordinator.  The chemical manufacturer or supplier will be contacted if additional information is required.

If you are working with chemicals or chemical products and would like to obtain a copy of the SDS for your product please call EH & S at 549-2513 to request one. Below are links to various online databases of SDS.  Haz Comm. training is available through the EH & S Department, please call 2513 for more info.  We are currently in the process of purchasing a computer program for bar coding and a better labeling/tracking system for all chemicals on campus.
NFPA Placards
It is required that each laboratory or work area where chemicals are used or stored be posted with the standard NFPA placard. The system is based on a color-coded warning with blue indicating health hazard, red indicating flammability, and yellow indicating reactivity. A numerical number is assigned to each color-coded area with a range from 0 to 4, the higher the number, the more hazardous the area. The highest number within each warning category for the chemicals present is posted on the placard.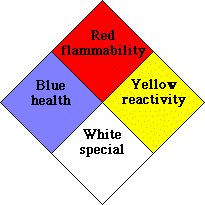 4 = Severe Hazard
3 = Serious Hazard
2 = Moderate Hazard
1 = Slight Hazard
0 = Minimal Hazard