Lambda Chi Alpha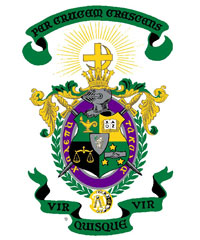 Lambda Chi Alpha serves as a co-curricular experience to complement higher education by providing young men with opportunities for academic achievement, leadership development, and lifelong friendships.
Mission
Through our Core Values and ritualistic teachings, Lambda Chi Alpha aims to systematically develop our men by fundamentally shaping who they are, what they know, and what they can do.
Vision
To lead a co-curricular Greek movement, predicated on partnership and collaboration amongst the undergraduates, host institutions, alumni and General Fraternity, and offering an experience that focuses on the maturational development of today's college man. As such, it is the vision of Lambda Chi Alpha to extend itself beyond the traditional social fraternity in practice and principle.
Seven Core Values of Lambda Chi Alpha:
Loyalty
Duty
Respect
Service and Stewardship
Honor
Integrity
Personal Courage