Moving on Campus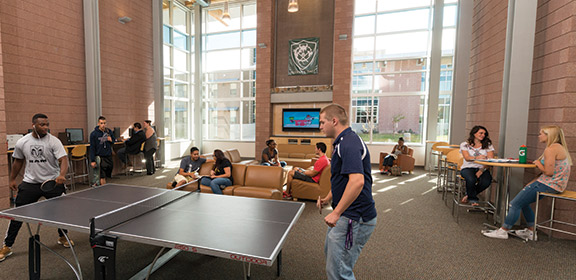 General Information
The Office of Residence Life and Housing currently operates four areas: Crestone Hall, Culebra Hall, Greenhorn Hall, and Walking Stick Apartments.
Residence hall life offers an unmatched opportunity to be more integrated with the University community. On campus, you live with other students who share your interests and are in pursuit of similar dreams. Think of it as your own personal support network, where you'll find the help and advice you need to deal with all aspects of academic life. And in the process, you'll form strong bonds that will last forever.
Personal growth and development are part of the journey. On-campus living provides the framework for transitioning to the "real world" in a safe learning environment. And of course, you'll find all the comforts of home. The only thing missing is someone to do your laundry, but at least you don't need quarters!
Amenities
Crestone Hall
Common Area
Ping Pong Table
Warming Kitchen
Floor Lounges
Card Access
Wireless Internet
Free Laundry
Free Premium Cable
Computer Stations
Vending Machines
24-hour Staff
Classroom
"Green" LEED Certified
Culebra Hall
Common Area
Ping Pong Table
Study Lounge
Floor Lounges
Card Access
Wireless Internet
Free Laundry
Free Premium Cable
Computer Stations
Vending Machines
24-hour Staff
Bistro
"Green" LEED Certified
Greenhorn Hall
Common Area
Ping Pong Table
Community Kitchen
Floor Lounges
Card Access
Wireless Internet
Free Laundry
Free Premium Cable
Computer Stations
Vending Machines
24-hour Staff
Classroom