Camps, Conferences, and Short Stays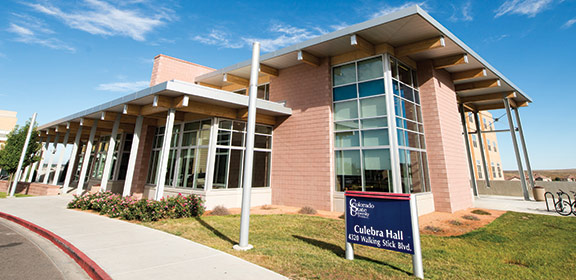 Not a student, not a problem!
Camps & Conferences
The Residence Halls at CSU Pueblo are utilized for camps and conferences from the end of May to the end of July each summer. CSU Pueblo is proud to offer suite-style floorplan accommodations that allow two people per room sharing a bathroom with the two people in the next room. No more walking down the common hallway to a community bathroom!
While the double suite-style is the most prominent room in our halls, we do have options for private rooms and a few triple rooms. If you'd like to offer linens to your campers, we can provide basic linens at an additional cost.
| | |
| --- | --- |
| Room Style | Per Person, Per Night |
| Double Occupancy/shared bath | $33.00 |
| Single Occupancy/shared bath | $45.00 |
| Private Occupancy/private bath (limited basis) | $52.00 |
| Triple Occupancy (limited basis) | $30.00 |
| Four bedroom/2 Bath Apartment (limited basis) | $50.00 |
| Linens (bedding, pillow, towels (2), hand towel (2), washcloths (4), light blanket) | $3.00 |
If you'd like to take advantage of CSU Pueblo's summer housing camp rates, please complete the form provided. The form will submit your request to Michael Lowe. Please contact Mr. Lowe at michael.lowe@csupueblo.edu for updates.  For meeting space and meals, please contact Brent Lorenz at brent.lorenz@csupueblo.edu. 
Short Stay
Looking for a place to stay for a few weeks but don't quite think of yourself as a camp? That's okay. We also allow short stays to individuals not affiliated with the University as well as faculty and staff. While our space is more available in the summer, we may have space during the fall and spring. We utilize the camp rates listed above for short stay costs.
CSU Pueblo faculty and staff are offered a discounted rate. This offer is intended for a short stay and may not be considered a housing alternative. We offer this option for faculty and staff who may be new to the area and looking for off-campus housing. We can provide temporary housing in the interim.
To reserve Short Stay housing, please fill out the Short Stay Application.
Summer Interns
For summer interns, please use the summer housing form to reserve your space. Pricing is listed in the application.