New Student Convocation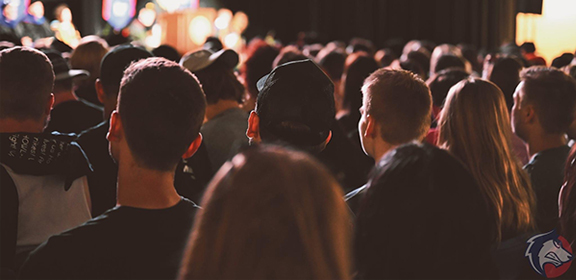 Recognizing Our New Students at 2023 Convocation 
New Student Convocation is a special time for CSU Pueblo to gather as a community and celebrate a joyous but also serious start of a new student's academic journey with faculty and their strongest supporters: their family and friends. It is a time to reflect on the student's commitment to the university's traditions and values. 
Most importantly, we, as a community, take a moment to recognize our wonderful new students, amazing supportive staff, and dynamic faculty who are committed to help our students thrive and change the world.

Convocation concludes with an exciting and fun ThunderWolf Rally!
Convocation is a memorable experience you and your guests will surely enjoy!

Get your FREE tickets now for the 2023 New Student Convocation! CLICK HERE 

At the convocation ceremony you will:
Attend the Pack Family  Burger Bar Cook Out at 12:30 pm at the Rooftop
Be recognized

 

and introduced to the CSU Pueblo President.
Be inspired by an incredible Key Note Speaker 
Receive your FREE "Pack On" t-shirt 
Be welcomed by university administrators who will participate in and lead the students through the Academic Pledge and pinning ceremony.
Learn the CSU-Pueblo Fight Song with your fellow classmates.
Be welcomed by the CSU-Pueblo Ballet Folklórico, band, cheer and dance team, as well as our live mascots Roch and Wolfie at the ThunderWolf Rally!
Student Athelets will be recognized!
All New Students gather at

 

2:00 pm

 

in front on the main entrance of the Massari Arena
Doors open for Guests at

 

2:00 pm

 

at the Massari Arena
New Student and Families or Guests Burger Bar Cook Out begins at 12:30 pm and located at The Rooftop at CSU Pueblo! 
The 2023 New Student Convocation ceremony will take place on Friday, August 18th at 3 p.m. in the Massari Arena. Doors open at 2:00 p.m. 
If you are a new student, arrive at the front enterance of the Massari Arena at 2:00 p.m. to pick up your "Pack On" shirt.
If you are a CSU Pueblo faculty or staff member and have questions, please call the SEAL office at 719.549.2151 or text questions to 719.319.5225 for further assistance.
For further information and updates on 2023 Convocation at CSU Pueblo, please visit www.csupuebloevents.com or follow @mycsupueblo on Facebook or @mycsupueblo_ on Instagram. 

Questions? Call 719-549-2151, Text (719) 319-5225, email Dr. Lucie at lucie.menjivar@csupueblo.edu, OR Stop by the SEAL office OSC Room 102!