Clubs and Activities
Student Activities
National Cyber League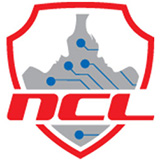 This year, our students ranked highly in the Gold and Silver bracket of the NCL competition, learned how to counter and use tools for: Open Source Intelligence, Network Traffic Analysis, Log Analysis, Scanning & Reconnaissance, Wireless Access Exploitation, Cryptography, Password Cracking, Web Application Exploitation, Enumeration & Exploitation.
NCL Fall 2017 CSU-Pueblo CyberWolves Team
Our CSU-Pueblo CyberWolves team scored #6 in the U.S. (out of over 175 University and college cyber teams) and scored #3 in our Silver Category (out of 65 teams) in the recent Fall 2017 nation-wide NCL (National Cyber League) TEAM Cyber Security games.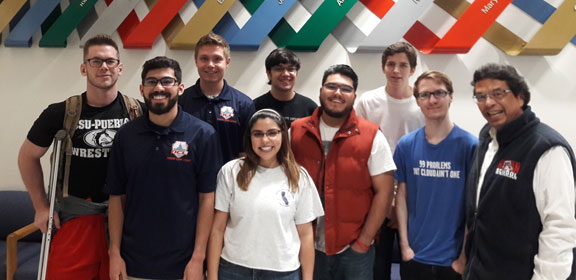 CIS CyberWolves team (In alphabetical order):
Coach - Dr. Roberto Mejias
David Giordano
Ryan Garbars
Gabrila Greer
Joshua Greer
Alex Marcks
Hunter Stevens
Austin Tapia
Steve Ullman
Mario Zamora
Student Clubs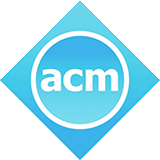 Association for Computer Machinery
The Association for Computing Machinery is a student organization located in the Hasan School of Business and currently has many students who actively participate in community-based computer repair, discounted computer and security certificates, and other various community outreach activities both on campus and off campus. The association provides training in quality and professional work, professional computing confidence, and understanding of computing and its consequences both online and offline. The association also volunteers time to the community on and off campus.
The Association for Computer Machinery participates in an annual cyber-security competition hosted by the National Cyber league. Every year the Association and a faculty member participate in a preseason game followed by two official games where they compete on an individual level with other universities nationwide.
Marketing Club
The purpose of CSU-Pueblo Marketing Club is to provide an opportunity for those with an interest in marketing and those who hope to learn more about the profession build their own professional portfolio and gain real life experience in the marketing field. In addition, through activities such as professional events, community service, club collaborations, company tours, and social functions the club seeks to help members develop skills and establish a network of professional contacts, which will enhance their possible career opportunities.  
Please view our Constitution.