Commencement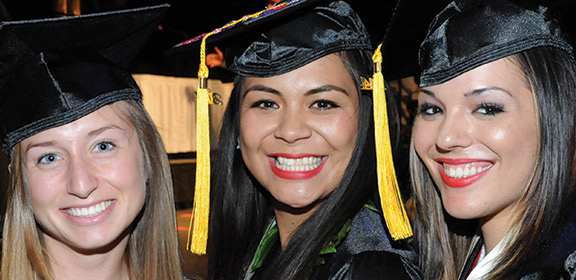 Commencement Ceremony Information
The Colorado State University-Pueblo Commencement Ceremony is scheduled for 10 AM, Saturday, May 6, 2017 in the Southwest Motors Events Center at the Colorado State Fair grounds (doors open at 8:00 AM). All Summer and Fall 2016 graduates, and Spring 2017 potential graduates are invited to participate in the spring ceremony.
For more information regarding eligibility please read the Commencement Participation Process. If you do not meet the requirements listed on the form please fill out the Commencement Participation Appeal Form and return to the Provost Office.
Caps and gowns for the ceremony can be ordered through the CSU-Pueblo Bookstore on March 7 - 8, 2017 from 9 AM - 5 PM. Colorado Springs Extended Studies Graduation Fair will be held on March 6, 2017 between 3 PM and 6 PM. All graduates and potential graduates will be notified through a mailing in February 2017 of the specific dates and times for ordering their cap and gown.
In order to attend the ceremony, all graduates are required to RSVP.
Complete your Graduate Survey by April 28 to be eligible for one of several prize drawings! Log into Paws to access your survey.
For additional information, please contact us at 719.549.2810.
Please visit this site regularly as updated information regarding Commencement may be posted.