Honor Societies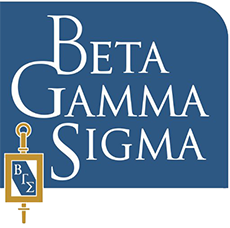 Beta Gamma Sigma is the international honor society serving business programs accredited by AACSB International - The Association to Advance Collegiate Schools of Business. Membership in Beta Gamma Sigma is the highest recognition a business student anywhere in the world can receive in a business program accredited by AACSB International.
Membership constitutes a lifetime connection between Beta Gamma Sigma and those who earn the Key. Once a member accepts the invitation to join the Society, the Key becomes a lifelong mark of distinction. It is not something to be displayed while in college and discarded upon graduation. Members showcase the Key prominently on their résumés. Professionally framed membership certificates adorn the walls in their offices, because they are proud of their accomplishment. When job openings occur within their organizations, they consider hiring or recommending other individuals who have earned the Beta Gamma Sigma Key. Members take seriously their commitment to educating others on the value and importance of Beta Gamma Sigma.
Membership in Beta Gamma Sigma provides valuable benefits for members on campus and throughout their professional lives. Take advantage of the Society's programs as you advance throughout your career.​​​​