Psychology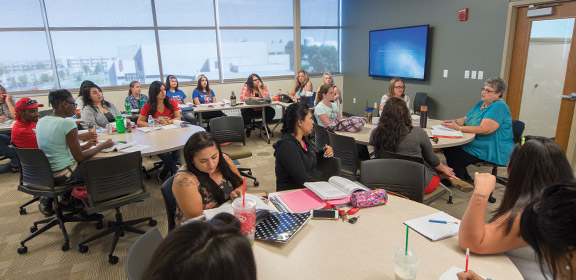 Welcome to the Psychology department at CSU-Pueblo! A BA or BS in Psychology from CSU-Pueblo will provide you with a versatile degree that directly compliments your personal interests.
With a Psychology degree, you can:
work in a mental health clinic; or start your own clinic!
conduct laboratory experiments
study human development
work with animals
study the relationship between humans and machines
work in the legal field
design psychological tests
work in a school
study evolution
work in the health care field
improve the lives of others
and much, much more!
Whatever your passion, the field of Psychology has a specialty for you! See a list of some of the specialties in Psychology.
Psychology Department Mission Statement:
Psychology is a field of inquiry which is called the science of behavior, and answers questions about how and why organisms behave as they do. The field of psychology is enormous, with many sub-fields. Some areas pertain to animals, while others are focused on the behavior of humans. Still other areas focus on abnormal behavior or complex social and emotional behavior, while cognitive area focuses on how people perceive, learn, remember, and think.
Psychology is a discipline based on theoretical perspectives and information gained through research. Therefore, the psychology major is based on understanding theory as well as learning the methods of inquiry, evaluation, and drawing appropriate conclusions. These skills are useful for problems solving in many applied settings.

The bachelor's degree program in psychology at CSU-Pueblo offers a curriculum which provides the student with an overview of the major areas within psychology, along with the opportunity to select courses which fit their personal interests. Through psychology courses at CSU-Pueblo, a student can enhance their career opportunities and/or gain an academic grounding for professional and graduate training. Students who seek careers as professional psychologists should consider studies at the graduate level. Students are encouraged to take advantage of many opportunities in the psychology department, including field placements and both laboratory and field-based research. There is a local chapter of Psi Chi, the National Honor Society in Psychology, which encourages students to maintain excellence in scholarship. Students are encouraged in participate in both Psi Chi and the Psychology Club.
Areas of Study
The Department of Psychology provides students with a general overview of the field of Psychology and offers options for completing a B.A. in Psychology or a B.S. in Psychology. While each degree option was developed to meet the particular interests of psychology majors, the required psychology courses are very similar and have several attractive features:
Focus of the B.A. in Psychology Option
In addition to the required psychology courses, students in the Psychology B.A. option must complete one of the three foreign language options listed on the psychology advising sheet.
Focus of the B.S. in Psychology Option
In addition to the required psychology courses, students in the Psychology B.S. option must complete 8 credits in the natural sciences or math (Biology, Chemistry, Geology, Mathematics, or Physics) beyond their general education courses. EXHP 162 and EXHP 162L cannot be used to satisfy the additional science requirement. The Psychology B.S. option provides an excellent background for graduate studies in psychology.
Psychology Minor
Requirements for the Psychology Minor
Twenty credits of psychology, which must include PSYCH 100 and nine credits of upper-division coursework. Credits in PSYCH 494 and 495 do not count toward the minor. A maximum of three credits of PSYCH 495 may count towards the minor if the project undertaken is research based.
A minimum grade of C in all psychology courses counting toward the minor.
Contact
If you have any further questions regarding the Psychology program at CSU-Pueblo, please call Dr. Richard Walker at 719.549.2829, or email richard.walker@csupueblo.edu.
Or write to:
Psychology Department, 2200 Bonforte Blvd, Pueblo, Colorado 81001
Phone: 719.549.2156
Fax: 719.549.2705
Office Hours: 8:00 a.m. - 5:00 p.m., Monday – Friday​​​​​​