Matousek to present Commencement Address
Release Date: March 08, 2018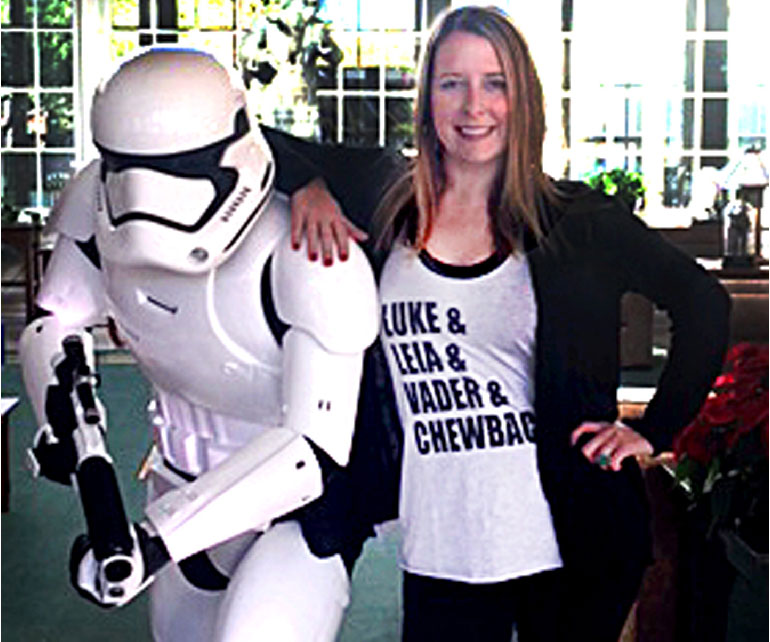 CSU-Pueblo 2005 Mass Communications filmmaker to present Commencement Address
PUEBLO –An award-winning 2005 mass communications graduate of Colorado State University-Pueblo who has been involved in numerous Star Wars films and Disney franchise efforts will share her insights with graduates in May. Megan Matousek will present the Commencement Address during the spring ceremony beginning at 10 a.m. on Saturday, May 5 at the Colorado State Fair Southwest Motors Events Center.
Matousek's film career began in July 2007 when she worked at LAIKA Animation as a marketing and public relations coordinator and assistant to Oscar-nominated Director Henry Selick, who directed the stop-motion animated film Coraline. Matousek managed asset creation, press events, interviews, and VIP lists for the world premiere of the movie. 
Matousek began working for Lucasfilm Ltd. in May 2011 and was initially responsible for marketing and creative content for the Lucasfilm Franchise across all lines of business including, Television, Film, Animation, Consumer Products, Online Social Media, Home Entertainment, Exhibits and Partnerships. She also oversaw and maintained the original creative vision for creative content to increase the Star Wars Franchises reach and relevancy. In May of 2017, she earned a Bronze Cannes Lion from the Cannes Lions International Festival of Creativity in the Mobile Category as Associate VFX Producer for Battle Test: A Nissan 360-Degree Virtual Reality Experience. She also earned two Lovie Awards in 2013 for Best Entertainment Campaign and People's Choice for her global social media campaign for Indiana Jones: The Complete Adventures Blu-ray Box set release.
In October 2015, Megan moved to Industrial Light & Magic (ILM), where she produced the visual effects for numerous commercials for Star Wars Battlefront II PlayStation, Nissan/Rogue One, Nissan/The Last Jedi, Duracell How the Rebels Saved Christmas, Star Wars Battlefront VR, Verizon Rogue One Recon 360 Experience, and Chrysle/The Force Awakens as well as park commercials for Disney World Hong Kong Star Wars Takeover, Disneyland Paris: Star Wars Galactic Spectacular, and Disney World Star Wars Awakens.
Matousek currently serves as Associate VFX Producer for Industrial Light & Magic in the San Francisco Bay Area. She's produced more than 100 digital projects for the Walt Disney Company and oversees post-production support teams of VFX artists, support staff, and supervisors for the Star Wars franchise. She has received credits for her work on Coraline, Star Wars The Force Awakens, Star Wars Rogue One, and Star Wars The Last Jedi. Currently, she is working on the upcoming release of SOLO, A Star Wars Story, which is set to release May 25, 2018.
While earning her bachelor's degree at CSU-Pueblo, Matousek was also an announcer/producer at Rev 89 and a member of the CSU-Pueblo Dance Team.
On May 5, guests at the commencement ceremony may arrive at 8 a.m. in order to secure seating, which is on a first-come, first-served basis. Following the commencement ceremony, the CSU-Pueblo Alumni Association will sponsor a reception for graduates and their guests. For more information about the CSU-Pueblo Commencement ceremony, visit www.csupueblo.edu/commencement.
Colorado State University-Pueblo is committed to excellence, setting the standard for regional comprehensive universities in teaching, research, and service by providing leadership and access for its region, while maintaining its commitment to diversity.
--CSU-Pueblo--