CSU-Pueblo to celebrate Year of the ThunderWolves Homecoming October 4-8
Release Date: September 25, 2017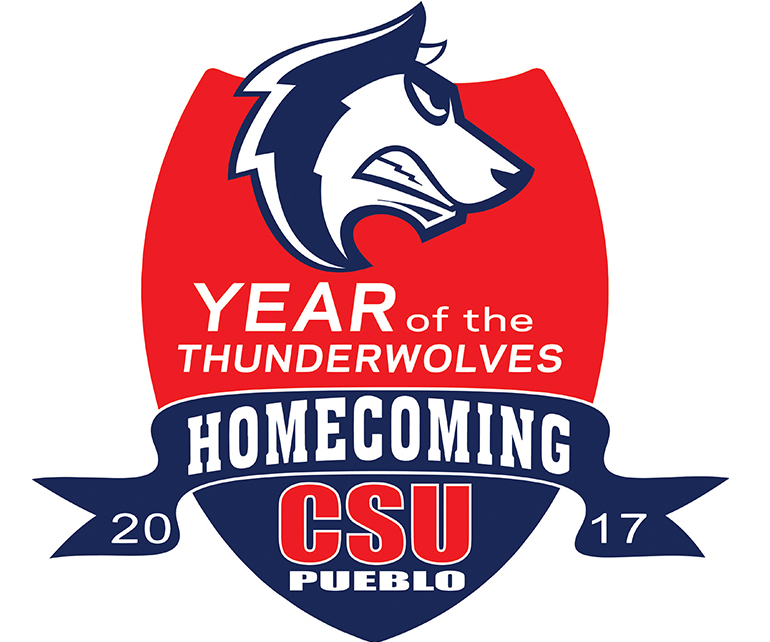 CSU-Pueblo to celebrate Year of the ThunderWolves Homecoming October 4-8
PUEBLO – Former and current students of Southern Colorado Junior College, Pueblo Junior College, Southern Colorado State College, the University of Southern Colorado, and Colorado State University – Pueblo, along with the parents of current students, are invited to Year of the ThunderWolves Homecoming activities, Oct. 4-8, a series of events planned by the CSU-Pueblo Alumni Association and the Office of Student Engagement and Leadership (SEAL).
The events kick off for alumni on Wednesday with a Donuts and Coffee Break at 8 a.m. in the Library and Academic Resources Center Lobby and concludes with the Alumni/Family Brunch at 10 a.m. on Sunday in the General Classroom Building foyer.  Activities are scheduled for various alumni groups including Baseball, Marching Band/Music, President's Leadership Program, Volleyball, Mass Communications, Art, Forensic/Debate, Enactus. Engineering, and SEAL (see schedule that follows).
The Alumni Association will sponsor the 2nd Annual family-friendly Howlin' House Party from 5:30-8 p.m. on Friday (Oct. 6) on the west lawn of the Neta and Eddie DeRose ThunderBowl.  This event will including food, drinks, games, and the Homecoming Pep Rally at 6:30 p.m.
The Powderpuff football game will be held at 7 p.m. on Friday on the Student Recreation Field.
Then, enjoy s'mores, hot cocoa, and apple cider at a bonfire sponsored by the Associated Students' Government on Friday night at 7:30 p.m. by the ThunderBowl.
On Saturday, six individuals and one team will be honored at the Athletic Hall of Fame induction ceremony, which begins at 10 a.m. in the General Classroom Building foyer. The 2017 class of inductees includes: Bob Busia, Football, 1961, 1963-64; Mike Duran, Cross Country, Track and Field, 1977-82; Steve Herzberg, Baseball, 1968-71; Lisa (Knafelc) Osleson Women's Basketball, 1977-81; Guy Taylor, Men's Basketball, 1985-88; Dave Miller, longtime public address announcer; the 1991 NAIA Wrestling Championship runner-up team. Tickets are $15 per person ($10 for those 12 and under) and may be purchased by contacting Trey Nickelson at trey.nickelson@csupueblo.edu or 719.549.2050.
A tailgate party sponsored by the Friends of Football and the Alumni Association will take place on Saturday on the rooftop deck of the Leomiti Warrior Center from 4 – 6 p.m.  Tickets are required. The ThunderWolf football team takes the field versus Adams State at 6 p.m. in the ThunderBowl. Homecoming royalty and Athletics Hall of Fame inductees will be recognized at half time of the game. Student tickets will be available in the bookstore the week of the game.
To purchase tickets, visit alumni.csupueblo.edu/events or contact Tracy Samora, director of alumni relations, 719.549.2858, tracy.samora@csupueblo.edu
The Student and Family Tailgate will be held next to ThunderZone Pizza and Tap House on Saturday from 4 - 6 p.m.  Students and their family members can enjoy food, games, music, and more prior to the Homecoming Football Game.  
Parents and family members can register for Family Weekend events at https://www.csupueblo.edu/parents/family-weekend.html.  For questions about Family Weekend, contact Bonnie Fruland, assistant director of Student Affairs, at 719.549.2332 or at bonnie.fruland@csupueblo.edu 
WEDNESDAY, OCTOBER 4
Donuts & Coffee Break with Alumni
Latino Chamber Coffee Break hosted by Engineering

8:15 a.m., Technology 141

Bartley Blvd. Grand Opening

9:30 a.m., Bartley Blvd. by water tower
THURSDAY, OCTOBER 5
Give Day
Pack Pantry – CSU-Pueblo Foundation hygiene product and food drive
President's Leadership Program Alumni Reception

5-7 p.m., Wine Down by the River, 105 South Union 
FRIDAY, OCTOBER 6
Parent/Family Weekend Check-in

1-5 p.m., Student Affairs Office, LARC 267

Baseball Alumni Golf Tournament

9 a.m., Elmwood Golf Course

Mass Communications Alumni Mixer

4 p.m., Buell Communications Center

Howlin' House Party

5:30-8 p.m., Neta & Eddie DeRose ThunderBowl, West Lawn
Food, Drinks, Games, and Family-friendly
Homecoming Pep Rally – 6:30 p.m.

Baseball Alumni Dinner

6 p.m., Olde Town Carriage House, 102 S. Victoria Avenue

Powderpuff Game

7 p.m., Student Rec Field

Bonfire (Hosted by ASG)

7:30 p.m., lot across from the ThunderBowl
S'mores, Hot Cocoa, Apple Cider
SATURDAY, OCTOBER 7
Athletics Hall of Fame Induction

10 a.m., General Classroom Building foyer
Tickets are required, $15 per person, $10 for ages 12 and under
Recognized at half time of football game

Family Bike Ride with Outdoor Pursuits

Join Outdoor Pursuits for a bike ride from CSU-Pueblo to the Downtown Pueblo Riverwalk. Participants will leave campus from the Student Recreation Center at 10 a.m., ride approximately 5 miles to the Pueblo River Walk, and will be shuttled back to campus by bus at 1 p.m. Cost: $25 and includes bike rental, tour guides, and transportation back to campus. Lunch can be purchased downtown on your own. Space is limited so RSVP at https://www.csupueblo.edu/parents/family-weekend.html

Baseball Alumni Game
Enactus Campus Clean-up Forensics/Debate Alumni Tailgate and Debate

9:30 a.m., General Classroom Building 111

4th Annual Engineering Alumni Open House and Breakfast

9:30 a.m., 1st Floor Technology Building

Volleyball alumni lunch and social

12:30 p.m., Hall of Fame Room, Massari Arena

Marching Band/Music Alumni Activities

Activities will begin at 3 p.m., Location TBD

Volleyball versus Western State
Friends of Football/Alumni Association/Community Tailgate

4 – 6 p.m., Rooftop deck at Neta & Eddie DeRose ThunderBowl
Tickets are required

Student and Family Tailgate

4-6 p.m., Field next to ThunderZone Pizza and Tap House
Music, Yard Games, and Food

Football vs Adams State

6 p.m., Neta & Eddie DeRose ThunderBowl
Halftime recognition of Homecoming King & Queen and Hall of Fame Inductees
Tickets are required
SUNDAY, OCTOBER 8
Alumni/Family Brunch

10 a.m., General Classroom Building foyer
RSVP required

Alumni Art Show

Fine Arts Gallery, Hoag Recital Hall

Pueblo Symphony performance

2 p.m., Hoag Recital Hall
Colorado State University - Pueblo is committed to excellence, setting the standard for regional comprehensive universities in teaching, research, and service by providing leadership and access for its region, while maintaining its commitment to diversity.
--CSU-Pueblo--