Discover CSU-Pueblo Day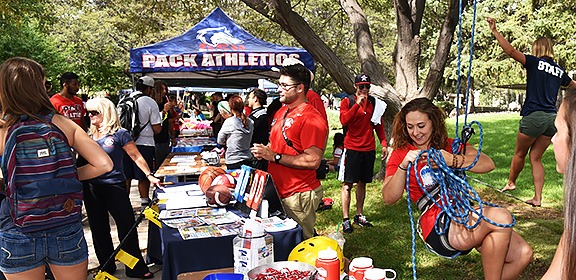 Join us for Discover Day to spend the day getting to know CSU-Pueblo!
We host 4 Discover Days each academic year, two in the fall semester, and two in the spring semester. We typically host one in October, November, March, and April (subject to change).
At each Discover Day, a $1,000 scholarship will be given away to one randomly selected attendee. 
An Overview of Discover Day:
Your day will begin with the opportunity to speak individually with CSU-Pueblo representatives at an information and club fair where you can also enjoy a continental breakfast. Clubs, organizations, and various departments will be available to meet with during this time. The formal program begins with a welcome session followed by information about admissions and financial aid.
You will then have the opportunity to visit with a professor in your intended major. Throughout the day, you will attend a student or parent panel and go on a tour of campus. You and your guests will be given vouchers to eat lunch in our Pack Café and you will receive a discount coupon to purchase CSU-Pueblo gear in the bookstore! After your last session, you will check out for the day.
Please be sure to make your tour selection when you register. You can choose from the following tour options:
A tour of campus and housing facilities
A tour of only campus (no housing)
No tour at all
Your complete and personalized schedule with details about your day will be provided for you at check-in on the day of the event.
For Discover Days that fall on days of home football games, you will be able to choose if you would like free tickets to attend the football game after Discover Day. You can make your selection regarding tickets when you register. 
Spring 2020 Discover Dates:
March 7, 2020
April 17, 2020
Registration for these two dates is now open.
Register Now!