Daily Visits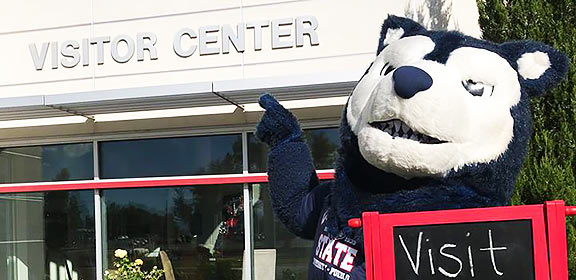 Visit Campus
Daily Visits
Reserve your daily visit to CSU-Pueblo. Choose one or more of the following options to create a personalized campus visit just for YOU!
A campus tour
A one-on-one meeting with an Admissions Counselor
A meeting with a professor from your major of choice
An appointment with a Degree Analyst (if you are a transfer student)
A visit to the Military and Veterans Success Center
Tour times: Monday through Friday, beginning at 11a.m. and 2p.m.

Tour length: Approximately 60-90 minutes.
Additional requested appointments will be scheduled around your selected tour time. Other appointments typically last approximately 30 minutes.
If you are interested in meeting with a coach, visit our Athletics Website for contact information for your particular sport or for more information about becoming a ThunderWolf Athlete.
Walk-in tours are offered during our normal tour times; however, we do recommend that you request your visit at least a week in advance if you would like any additional appointments. We will make every effort to accommodate all requests. For questions, or to make your reservation over the phone, please contact the Visitor Center at 719.549.2418.
We hope to see you here soon!