Daily Visits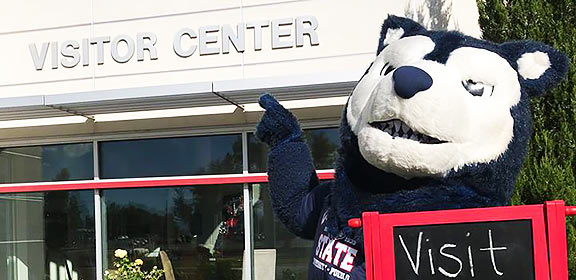 Visit Campus
Daily Visits
Reserve your daily visit to CSU-Pueblo. Choose one or more of the following options to create a personalized campus visit just for YOU!
We are currently offering both in-person and virtual meeting options.
A campus tour (in person)
A meeting with a current CSU Pueblo student (zoom)
A one-on-one meeting with an Admissions Counselor (in-person, phone, or zoom)
A meeting with a professor from your major of choice (in-person or phone)
A visit with the Military and Veterans Success Center (in-person or phone)
Physical tour times: Monday through Friday
9:00-10:30
10:30-12:00
2:00-3:30
3:30-5:00

Tour length: Approximately 60-90 minutes.
Additional requested appointments will be scheduled around your selected tour time. Other appointments typically last approximately 30 minutes.
If you are interested in meeting with a coach, visit our Athletics Website for contact information for your particular sport or for more information about becoming a ThunderWolf Athlete.
Due to COVID-19, walk-in tours and appointments are not currently being offered, you must register ahead of time. In addition, face coverings must be worn at all times and you must observe proper social distancing while on tour. 
We hope to see you here soon!