Strider Swope
Testing Center Manager | APC Representative at Large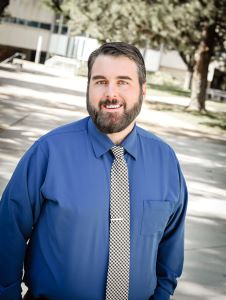 Degrees
Doctor of Education, Educational Leadership (in process), Colorado State University Pueblo
Master of Business Administration, Colorado State University Pueblo
Bachelor of Science in Business Administration, Colorado State University Pueblo
Associate of Arts in French Language, Pueblo Community College
Associate of Applied Science Culinary Arts Management, Pueblo Community College
Associate of General Studies Business Management, Pueblo Community College
Dining Service Certificate, Pueblo Community College
Bio
Mr. Swope has been working in higher education and university/college testing centers for more than a decade.  He is a subject matter expert in standardized test administration and a seasoned higher education leader. He served as chair of the Rocky Mountain College Testing Association from 2009 to 2013. He has been a member of the National College Testing Association since 2008 and he was awarded the Professional Contribution Award for his involvement in hosting the NCTA's Denver Conference in 2014.  He has done consulting work for the College Board on the Accuplacer exam and served on the Credit for Prior Learning Committee for the Colorado Community College System.  He has administered exams to thousands of students and test candidates for the largest testing vendors in the world, including College Board, ACT, Scantron, Pearson VUE, Prometric/ETS, among others. He has a passion for student success, access, and inclusion.
He currently serves as the Representative at Large for the CSU Pueblo Administrative Professional Council (APC).
His higher education experience includes testing center management, international students services (RO/PDSO), study abroad, extended studies, foreign language tutoring (French and Italian), and DEI. His international experience includes study abroad in France and Italy as well as student recruitment in South Korea and Indonesia.  He also was honored as Distinguished Alumnus of Pueblo Community College in 2011 and he was honored as runner up for Outstanding Administrative Professional Employee at CSU Pueblo in 2022. 
In additional to higher education, he has professional experience in the local government (Pueblo County Clerk and Recorder), retail, and the food service industry as a classically trained chef.