UCHealth, CSU Pueblo and National Fitness Campaign Bring Free Outdoor Fitness to CSU Pueblo Campus
Release Date: October 27, 2023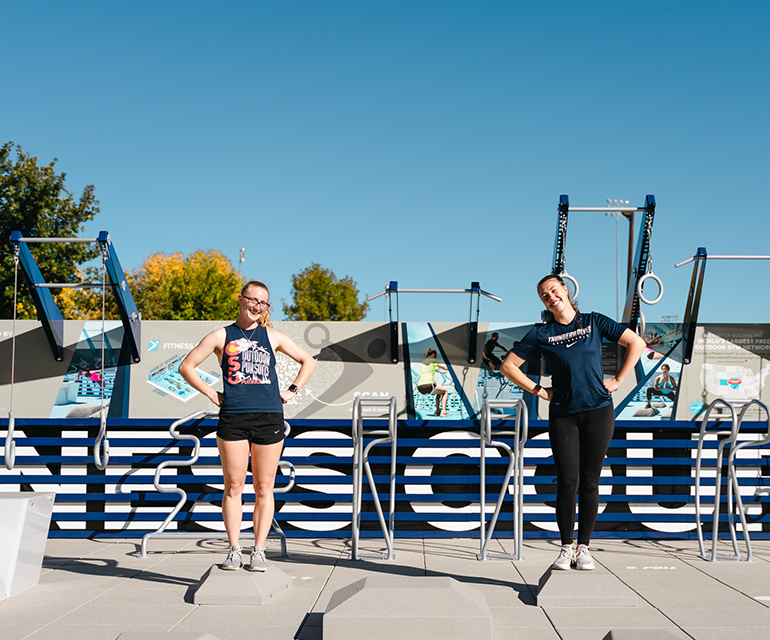 (PUEBLO, CO - OCTOBER 30, 2023) — UCHealth, Colorado State University Pueblo, and National Fitness Campaign (NFC) today announced an agreement to bring an outdoor Fitness Court to Colorado State University Pueblo. The Fitness Court, located on the CSU Pueblo campus at 2200 Bonforte Boulevard, will open on November 2, 2023 at 2:30 p.m. with a ribbon-cutting ceremony. 
This Fitness Court was developed by UCHealth, CSU Pueblo ThunderWolf Recreation and NFC to expand free access to high quality workouts, creating equitable access to exercise for communities around the state. The Fitness Court is the world's best outdoor gym that allows people to use their own body weight to get a complete workout using seven exercise stations. 
Created with people aged 14 and over and with all abilities in mind, the workouts are adaptable for all fitness levels, allowing participants to move at their own pace. Users also may download the free Fitness Court App which acts as a coach-in-your-pocket and enhances the outdoor gym into a digitally supported wellness experience. 
UCHealth's partnership with National Fitness Campaign is part of Ready. Set. CO, a state-wide challenge aimed at making Colorado the healthiest state in the nation and getting Colorado back to the summit of good health. CSU Pueblo joins Boulder, Highlands Ranch and Loveland as the latest healthy community  to join the UCHealth campaign in Colorado.
"Everyone can benefit from living an active lifestyle, both physically and mentally," said Manny Rodriguez UCHealth Chief Marketing, Experience, and Customer Officer. "It is well documented that regular exercise can prevent illness, improve our mental health and help manage chronic health conditions. We are excited to partner with National Fitness Campaign as part of UCHealth's Ready. Set. CO challenge to improve the health of all Coloradans and restore our place as one of the healthiest states in the nation."
"Currently, ThunderWolf Recreation offers indoor amenities that allow for a variety of options to engage and energize our people in meaningful and supportive well-being activities," states Emily McElwain, Assistant Dean of Student Life and Director of Recreation. "The Student Recreation Center is a recreational, fitness and health focal point for the campus, however, we sought to expand to outdoor spaces as an extension of what we offer to our people. Outdoor spaces like the Fitness Court, engage place, one of our campus's guiding principles, by capitalizing on the nearly 300 days of sun southern Colorado has to offer!"
"National Fitness Campaign is proud to welcome CSU Pueblo to the campaign as a leader in Colorado, championing health and wellness for their campus and community" said Mitch Menaged, founder of National Fitness Campaign. "We are proud to continue our mission of getting people moving outdoors and helping communities combat the fiscal and humanitarian costs of inactivity." 
CSU Pueblo would be the second higher education institution in the state, the first being CU Boulder, which launched their Fitness Court and wellness programming in 2018.
The CSU Pueblo campus community and local residents are invited to attend the launch event on November 2 at 2:30 p.m. to try the Fitness Court. For more information on UCHealth's support of NFC, please visit nationalfitnesscampaign.com/colorado. 
About UCHealth
UCHealth is an innovative, nonprofit health system that delivers the highest quality medical care with an excellent patient experience. UCHealth includes 30,000 employees, 12 acute-care hospitals and hundreds of physicians across Colorado, southern Wyoming and western Nebraska. With University of Colorado Hospital on the CU Anschutz Medical Campus as its academic anchor and the only adult academic medical center in the region, UCHealth is dedicated to providing unmatched patient care in the Rocky Mountain West. Offering more than 150 clinic locations, UCHealth provides extensive community benefits and pushes the boundaries of medicine through advanced treatments and clinical trials, improving health through innovation.


About CSU Pueblo
Colorado State University Pueblo is a comprehensive state university with an enrollment of nearly 4,000 students. With 34 percent of its students Hispanic, it is a designated Hispanic Serving Institution (HSI), and a military friendly university. The university is dedicated to interdisciplinary learning and entrepreneurship that elevates its people and community, creates educational opportunities, fosters unique collaborations, and supports inclusion, access, and affordability as a gateway to the world. 
About National Fitness Campaign

Founded in San Francisco in 1979, National Fitness Campaign is a wellness consulting firm that provides programs and services to cities, schools and sponsors with the mission to build healthy communities nationwide. The campaign delivers an integrated wellness initiative, centered around the Fitness Court®–the world's best outdoor gym. National Fitness Campaign is planning its 500th healthy community, uniting the country's largest public-private partnership in support of wellness with the goal of building a Fitness Court® within a 10-minute bike ride of  every American. Follow along with National Fitness Campaign at nationalfitnesscampaign.com or on Twitter, Instagram, Facebook and LinkedIn.