Colorado State University Pueblo Celebrates Homecoming and Family Weekend Oct. 6 - Oct. 7
Release Date: October 03, 2023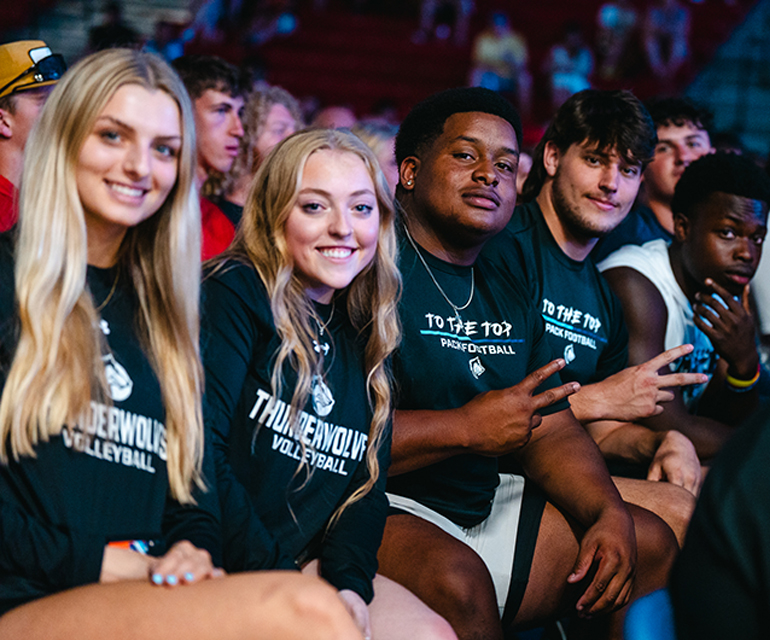 Colorado State University Pueblo has announced the schedule of events for Homecoming and Family Weekend. Alumni, guests, students, and Pack families are invited to the campus to participate in the full weekend of events designed to celebrate the spirit of CSU Pueblo.
The festivities begin on Friday, October 6 with a welcome dinner at 5 p.m. on the Occhiato Student Center Patio followed by the announcement of the 2023 Homecoming Royal Court. Activities for children include making slime, decorating tote bags, lawn games, and an ice cream bar. Later that evening, the Associated Students' Government will host the pep-rally bonfire at 8 p.m. in the lot adjacent to Rawlings Field with special performances by the Cheer and Dance teams and the ThunderWolves Marching Band.
The CSU Pueblo Athletics Hall of Fame Banquet is scheduled for Friday, October 6 at 6 p.m. in the Occhiato Student Center Ballroom. This year's inductees include Bobby Graham (1963-66), Men's Basketball, Bailey Hughes (2015-2017), Women's Cross Country & Women's Track and Field, Deborah Hunter (1985-87), Women's Basketball & Women's Volleyball, Ryan Jensen (2009-2012), Football, Shelly Watts (1985-88), Women's Basketball, Derrick Williams (2014-18), Men's Cross Country & Men's Track and Field, Mike Friedman (1974-83), Football Coach, 2016-2017 Women's Basketball Team. Tickets can be purchased at www.gothunderwolves.com. 
On Saturday, October 7, the Pack Family Tailgate begins at 11 a.m. in the ThunderBowl parking lot. CSU Pueblo bucket hats are available on a first-come, first-served basis. Enjoy an all-you-can-eat buffet, soft drinks, and alcoholic drinks. Activities include tye-dye t-shirt making, bounce houses, and yard games. All Pack students, families, friends, and alumni are encouraged to attend.
The Distinguished Young Alumni brunch will be held from 10 a.m. to noon on Saturday at the Occhiato Student Center Patio. This year's recipients include Dr. Juan Rodriguez A16 & A19, College of Science, Technology, Engineering, and Math, Lindsey Dunbar, A14, College of Health, Education, and Nursing, Antonio Huerta, A16, Hasan School of Business, Nicki Hart, A07, College of Humanities, Arts and Social Sciences.
The ThunderWolves host the Grizzlies from Adams State for the annual homecoming rivalry matchup with a 2 p.m. kickoff. The game will also be televised on the local Fox 21 affiliate.
Other activities include spending a day with the ThunderWolves Marching Band. Alumni and band supporters are encouraged to register at this link and spend the day with the band.
The CSU Pueblo Fine Art Gallery located in the lower lobby of Hoag Hall will be open from 10 a.m. until 1:30 p.m. for alumni, students, and families to view the latest art exhibits.
Walter's Brewery and Taproom is hosting Oktoberfest from 6 to 8 p.m. on Saturday, Oct. 7. Each purchase of a Homecoming and Family Weekend ticket includes two free drink tokens to redeem at Walter's Oktoberfest. Their event will feature a ceremonial keg tapping, live music, food trucks, games and vendors.
Click here to learn more about 2023 Homecoming and Family Weekend and to purchase tickets.