Loss of a Colleague and Celebration of Life: Professor Janet Nichols
Release Date: September 28, 2023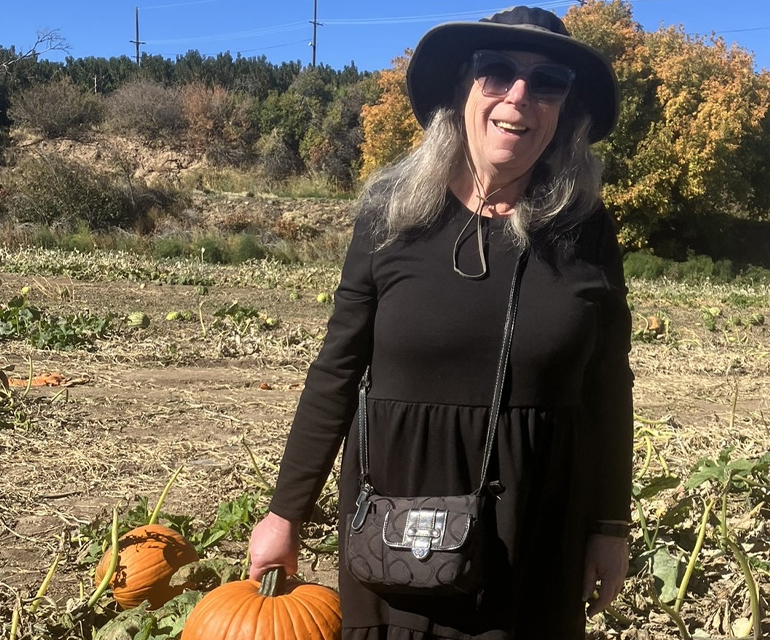 Professor Janet Nichols (April 7, 1950 – September 15, 2023)
Earlier this month, CSU Pueblo lost a stalwart member of our community. Professor Janet Nichols (Mathematics) passed away at her home in Canon City, surrounded in love with her children, Gina and Dan, after a turbulent battle with metastatic pancreatic cancer.
CSU Pueblo President, Timothy Mottet, shared the following: "With the passing of Dr. Janet Nichols, we have lost a great friend, colleague, and incredible educator. Across four decades, Dr. Nichols helped students understand and appreciate mathematics and life. Janet has been the constant on a campus full of change. She kept us grounded, and I know it's going to take some time to find our footing again."
Janet began her time at CSU Pueblo as an Instructor in Mathematics at the, then, University of Southern Colorado, August 29, 1977. By 1979, she became an Assistant Professor of Mathematics, and Associate Professor of Mathematics, with tenure, in August 2005. Janet was an active participant in the Rocky Mountain Section of the Mathematical Association of America, and was an extremely successful teacher, consistently attracting large numbers of students to her classes despite — or perhaps because of — her high expectations. She worked tirelessly, both in and out of the classroom, to ensure that her students succeeded in attaining their goals. In addition to caring deeply about her own teaching and students, Janet gave freely of her time, energy and experience to help her colleagues resolve their own classroom dilemmas, and she worked to support every departmental, college, and university initiatives focused on improving learning outcomes.
From Dr. Steve Aldrich,  Chair of the Department of Mathematics and Physics, "One could potentially go through university records and get a rough estimate of the number of students in her courses, but there is no way to measure the impact she had on three generations of them. Like the genealogy of a family, her student tree has branches and roots (and leaves and fruit). She had many students over the years who became teachers. Each of those has a student tree of their own. Some of them even had students, and children, who became Janet's students, twisting the trees together into an amazing forest."
Among her many contributions to CSU Pueblo, Janet's enthusiasm for mathematics led to the creation of the department's highly successful "Math Day," an annual one-day event for high school students from across southeastern Colorado that she personally organized for more than four decades. Many of the sponsoring teachers who attended Math Day had completed classes under Janet's instruction in their own student days and credited her for making a difference, not only to their mathematical development, but also to their own future teaching. Janet's commitment to promoting high-quality mathematics learning opportunities for everyone also led to her involvement in numerous outreach programs in the greater Pueblo region for K-12 teachers of mathematics and their students. Her achievements over the years were recognized with several awards, including the 2011 University Faculty Excellence in Teaching Award and the 2012 Burton W. Jones Distinguished Teaching Award from the Rocky Mountain Section of the Mathematical Association of America.
"Janet gave freely of her time, energy, and experience to help whoever, wherever, and whenever she could. She touched our lives with her mentorship, her friendship, her kindness, her laughter, and her example of what it means to make a difference. In the midst of the grief surrounding Janet's far too abrupt departure from this world, I count myself blessed to be among those who have been touched by the ways in which her presence in this world has left it a better place." Dr. Janet Barnett, Emeritus Faculty, CSU Pueblo Mathematics.
From Janet's obituary …
Born on Long Island, New York on April 7th, 1950, Janet spent her childhood developing an enduring love of learning and many lifelong friendships, as well as mastering the flute and frequently proving to be more intelligent than her older brother. While earning her undergraduate degree in mathematics at Adelphi University she met the love of her life, then computer repairman and Air Force Veteran, John Nichols.
Even though the family settled in Canon City, Janet's attentions were always fixed squarely in Pueblo. Her sometimes-shocking devotion to CSU Pueblo and its students was rarely, if ever, matched. She became an integral part of the university's learning community, both within her treasured mathematics department and elsewhere, especially in her involvement with the education department and curriculum planning board. She worked with many colleagues, some who became close friends, on dozens of programs designed to enhance mathematics education for all grades, with a particular fondness for helping elementary school teachers impart a love of math early in their students' lives. Her students were undoubtedly an unceasing light in her life.
Following the maturation of her children and untimely death of her husband in 2008, her dedication to the university only redoubled, and she spent the final 15 years of her life proving day after day that her enthusiasm for mathematics education was unwavering. Likewise, her commitment to providing baked goods on exam days never faltered.
A celebration of life will be held on "Math Day," November 16, 2023, at CSU Pueblo's Hoag Hall from 3:30-4:30pm, with a reception in the Hoag Hall lobby to follow (4:30-5:30pm).
A scholarship fund has been established in Janet's memory, The Janet Nichols Memorial Math Scholarship. You may contribute, with your memory of Janet's impact on your life, through CSU Pueblo's on-line portal at https://www.csupueblo.edu/foundation/donation-form.html, or you may mail in a donation to:
CSU Pueblo Foundation
Janet Nichols Memorial Math Scholarship
2200 Bonforte Blvd.
Pueblo, CO 81001
Losing any member of the Pack is always difficult. If you need help working through this time, the Wolfpack Counseling Center is available for students and staff, both on-site and online, Monday - Friday 8 am – 5 pm Please feel free to contact them at 719.549.2838 if you have any questions or want to set up an appointment.  If you are in crisis, please reach out to Colorado Crisis Services at 1.844.493.8255.