CSU Pueblo Opens New Satellite Campus at Pikes Peak State College
Release Date: September 25, 2023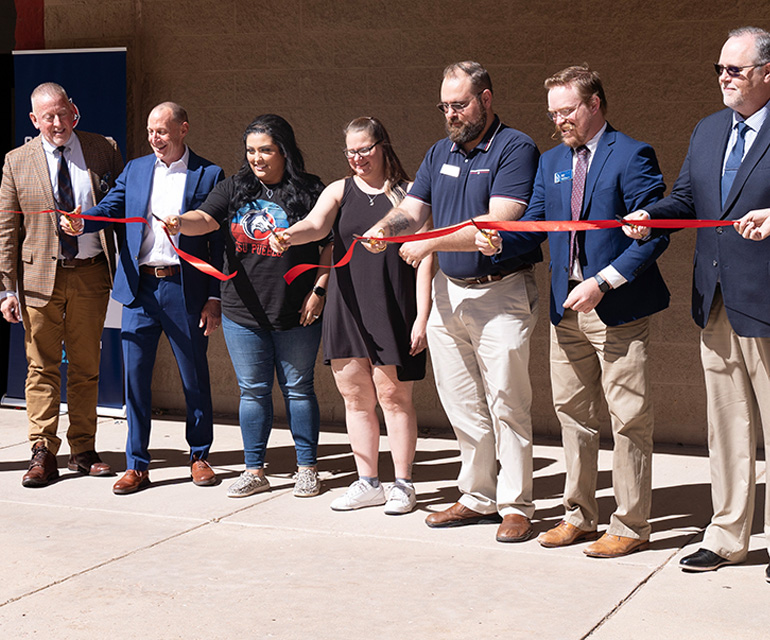 Colorado Springs, Colo. - Colorado State University Pueblo (CSU Pueblo) and Pikes Peak State College (PPSC) have signed a five-year agreement to allow students to complete an associate's degree and a bachelor's degree at one central location. The agreement between the two institutions opens the door for new transfer options and opportunities for more degree completion pathways for students in Pueblo and El Paso Counties, and the surrounding region.
A ribbon cutting to celebrate the grand-opening of the shared space is scheduled at 2 p.m. on Friday, Sept. 22 at Pikes Peak State College. Students, faculty, staff, families, and friends of both campuses are invited to attend. There will be a drawing for a $1,000 scholarship, students must be present to win.
"This transformative partnership between Pikes Peak State College and Colorado State University Pueblo will provide our students with the unique opportunity to easily transfer to CSU Pueblo to complete a four-year degree," said CSU Pueblo President, Dr. Timothy Mottet. "We are grateful for our colleagues at Pikes Peak and our team at CSU Pueblo who have collaborated and made this agreement a reality."
Upper level classes will be offered this fall for students to finish their associate's degree and seamlessly transfer to CSU Pueblo, while remaining on the Centennial campus. Course offerings include options to complete a bachelor's and master's degree in social work and a bachelor's degree in criminology and sociology.
"The expanded relationship between Pikes Peak State College and CSU Pueblo will help streamline the transfer of credits for any student seeking a four-year degree; it will provide another way that PPSC can create pathways for our military students to be successful, and we are confident this will support enrollment growth at both institutions," said PPSC President, Lance Bolton.
Nearly half of the students at Pikes Peak State College intend to transfer to another school after they complete their associate degree. This partnership between both institutions makes it possible for students to attain a bachelor's degree more efficiently and creates a pipeline for degree completion programs. 
About CSU Pueblo
Colorado State University Pueblo is a comprehensive state university with an enrollment of nearly 4,000 students. With 34 percent of its students Hispanic, it is a designated Hispanic Serving Institution (HSI), and a military friendly university. The university is dedicated to interdisciplinary learning and entrepreneurship that elevates its people and community, creates educational opportunities, fosters unique collaborations, and supports inclusion, access, and affordability as a gateway to the world.
About Pikes Peak State College
Established in 1968 and accredited by the Higher Learning Commission, Pikes Peak offers associate degrees, certifications in career and technical fields and three bachelors' degrees. With three campuses, various off-campus locations, two military education centers, and hundreds of online classes, PPSC provides access to a quality, affordable and flexible education to more than 18,000 students annually with both credit and non-credit classes.
CSU Pueblo Media Contact:
Gena Alfonso
Director of Communications, PIO
Marketing, Communications & Community Relations
719-671-0929
PPSC Media Contact:
Matt Radcliffe
Digital Strategy Manager
719-502-2022