CSU Pueblo Foundation and Alumni Association Recognize Four 2023 Distinguished Young Alumni
Release Date: September 11, 2023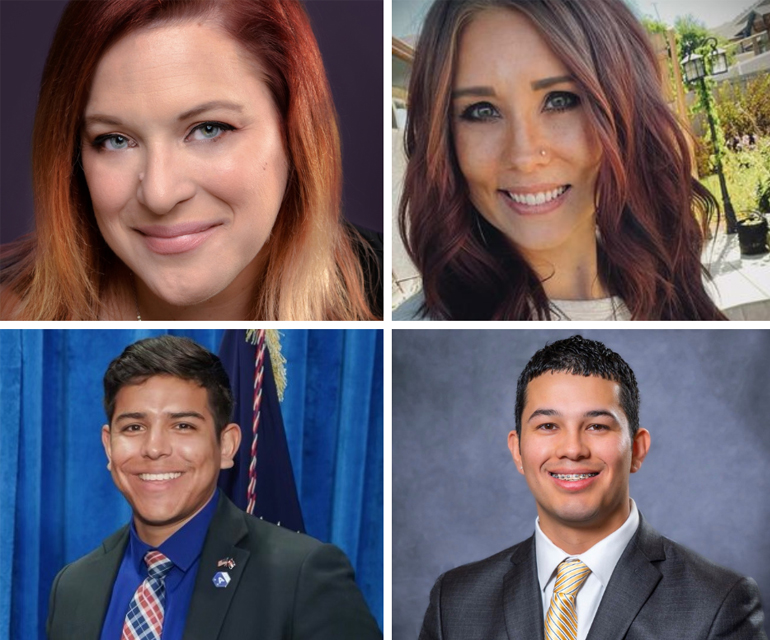 PUEBLO – The CSU Pueblo Alumni Association, in conjunction with the CSU Pueblo Foundation, has announced the recipients of the 2023 Distinguished Young Alumni (DYA) Award. The honor recognizes the remarkable achievements and contributions of our alumni ages 40 and under. This year's recipients have demonstrated extraordinary dedication to their fields, their communities, and their alma mater. The DYA award highlights their outstanding accomplishments and serves as an inspiration to current students and fellow alumni alike.
Nicki Hart, a 2007 alumna from the Fine Arts department, is the recipient from the College of Humanities, Arts and Social Sciences. Nicki designed websites for Pueblo County government, Visit Pueblo, Pueblo Board of Water Works, and the Pueblo Chile. She also collaborated with local organizations to develop Pueblo's first official image and video library for Share Pueblo; SoCoYoGo, a loyalty youth app and Supporting Pueblo, an Amazon like local online marketplace for Pueblo makers. Nicki also runs an online education network, Design Proacademy, helping the next generation of over 40,000 designers in 187 countries.
Lindsey Dunbar, a 2014 alumna from the Exercise Science and Health promotion program is the recipient from the College of Health, Education and Nursing. Lindsey's first master's degree is in public health sciences, with her second master's degree in clinical mental health counseling. She worked in the public health sector (specifically Pueblo Department of Public Health and Environment) for several years, focused on behavioral health. She now works as a psychotherapist for A New Leaf Therapy, helping those experiencing depression, anxiety, grief, and loss (including, specifically, pregnancy and infant loss), trauma/PTSD, and relationship problems.
From the Hasan School of Business, Antonio Huerta is a 2016 alumnus. Antonio has deep roots in southern Colorado, coming from Granada, and is a second generation Thunderwolf. Huerta serves as the Southern Colorado regional director for the office of Senator Hickenlooper. During his time at CSU Pueblo, Antonio served as the Associated Student's Government President, went on to work for El Pomar as a program associate, served as the Director of Philanthropy for the CSU Pueblo Foundation and ultimately ended up working for the senator's office. Huerta believes in making a difference, whether it is through raising his voice on social issues or supporting initiatives and feels empowered in his rewarding career in public service.
For the College of Science, Technology, Engineering and Math, the recipient is Dr. Juan L. Rodriguez a 2016 and 2019 alumnus from the biology department. Dr. Rodriguez earned his doctor in dental surgery and a master's in public health from the University of Colorado School of Dental Medicine on the Anschutz medical campus, he currently works as a dentist in Colorado Springs at the Dentist of Broadmoor. During his time at CSU Pueblo, Rodriguez, was the Houston C. Simms Outstanding Biology Student award recipient, served as philanthropy chair for the Lambda Chi Alpha – Delta Omega chapter fraternity, and served as a senator on the associated student's government.
These exceptional individuals truly embody the spirit of our institution, carrying forward the values of excellence, innovation, and service. We are immensely proud of their accomplishments and are excited to celebrate their successes at the upcoming DYA Brunch, where they will be formally honored. The Brunch is on Saturday, October 7 from 10 a.m. to noon. Tickets for the Brunch are on sale now and can be purchased here. Table sponsorships are also available.
The 2023 Distinguished Young Alumni Award recipients serve as beacons of inspiration for the entire CSU Pueblo community. Their stories remind us that determination, vision, and hard work can lead to remarkable achievements that make a lasting impact on society. We invite all members of the media, alumni, students, and supporters to join us in celebrating the accomplishments of these remarkable individuals.
For more information about the Distinguished Young Alumni Award recipients, please contact Daniel Minich, Digital Donor Engagement Coordinator, at 719.549.2565 or Daniel.Minich@csupueblo.edu.