CSU Pueblo and Greater Pueblo Chamber of Commerce Announce Joint Partnership with New Visit Pueblo Welcome Center Location
Release Date: August 22, 2023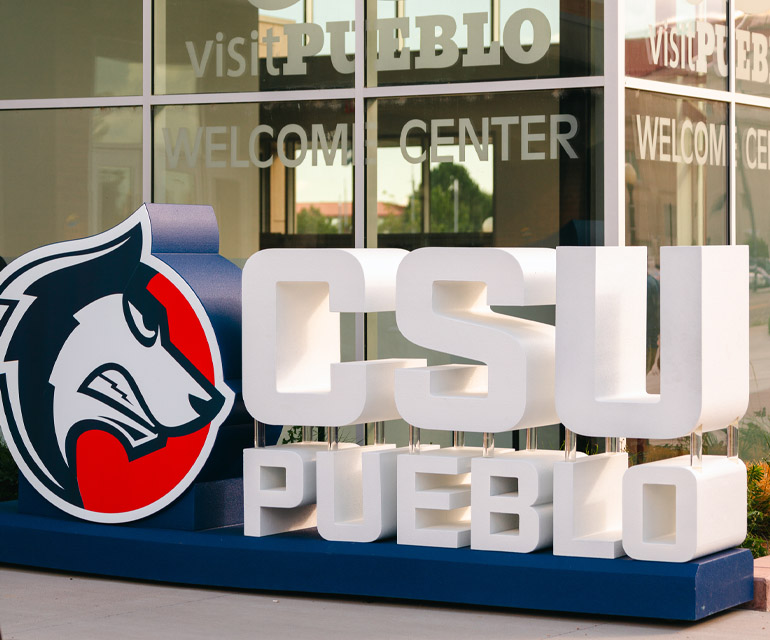 CSU Pueblo and the Greater Pueblo Chamber of Commerce (GPCC) are proud to announce the grand opening of the Visit Pueblo Welcome Center. A ribbon cutting ceremony is scheduled at 6 p.m. on August 18th at 310 Main Street.
The welcome center is a joint partnership between the university and the Chamber and serves as a space to welcome visitors to Pueblo and introduce them to the campus. Located adjacent to Gateway Park on the Historic Arkansas Riverwalk of Pueblo, the welcome center provides a central location to welcome new and future ThunderWolves to Pueblo.
"As part of Vision 2028, we want to engage place, elevate Pueblo, and serve as an excellent community partner," CSU Pueblo President Dr. Timothy Mottet said. "This location serves as a brick-and-mortar representation of the valued partnership we have with the Greater Pueblo Chamber and helps connect our campus  and students to our beloved community."
The Visit Pueblo Welcome Center will be open Monday through Saturday from 9 a.m. to 5 p.m and staffed by CSU Pueblo personnel. Information about Pueblo, the state, and the university is available. Eventually, athletic tickets and CSU Pueblo merchandise will be available for purchase at the downtown location.
"The economic impact of tourism in Pueblo County was over 296 Million in 2022." said Donielle Kitzman, Vice President of Tourism at the GPCC. "The Visit Pueblo Welcome Center is the first impression for visitors to Pueblo and provides a great opportunity for us to partner with the university and introduce students and visitors to Pueblo's culture, amazing amenities, and the educational opportunities provided by CSU Pueblo."
About CSU Pueblo
Colorado State University Pueblo is a comprehensive state university with an enrollment of nearly 4,000 students. With 34 percent of its students Hispanic, it is a designated Hispanic Serving Institution (HSI), and a military-friendly university. The university is dedicated to interdisciplinary learning and entrepreneurship that elevates its people and community, creates educational opportunities, fosters unique collaborations, and supports inclusion, access, and affordability as a gateway to the world.
About the Greater Pueblo Chamber of Commerce
We are a volunteer-driven organization that improves and promotes an atmosphere that enables the community to grow and prosper.
We work to accomplish its purpose by serving as the voice of the Pueblo business community and representing our members in governmental affairs at local, state and federal levels.