Colorado State University Pueblo Nursing Education Initiative Awarded $1.39 Million from Opportunity Now Colorado Grant Program
Release Date: July 20, 2023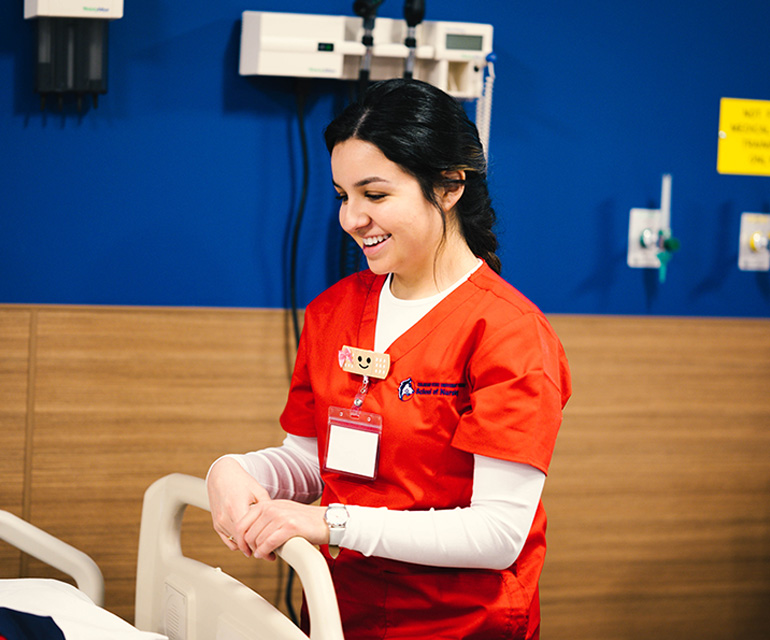 Colorado State University Pueblo nursing education initiative awarded $1.39 million from Opportunity Now Colorado Grant Program.
The newly created "Grow Where You're Planted: Southern Colorado Partners Leading Advancement in Nursing Track (PLANT)," program was one of 46 grant recipients funded in the first of three phases of funding provided by the Opportunity Now Colorado Grant Program. The university's proposal, led by Dr. Misty Sailors, Dean of the Graduate School, and Alexandra Hansen, Regional Development Officer, received $1.39 million in support in the seed track.
Governor Jared Polis's office announced a total of $27 million was awarded in initial funding for proposals within the scale, seed and planning grant tracks. "Across the state, employers are looking to hire the top talent that Colorado is known for. The Opportunity Now Colorado grant recipients will help Coloradans develop the skills and experience our growing industry partners need and unlock access to good paying jobs," Governor Polis stated in a state release.
The Opportunity Now team intentionally considered geographic distribution of programs to ensure the collective pool of Phase 1 grantees serve all regions of Colorado. PLANT is designed to grow accessible pathways for students throughout Pueblo and Southern Colorado to earn an accredited nursing degree that will prepare them to enter the workforce as a nurse or a nurse educator, both careers in high demand throughout the state. "Serving our students requires enhanced support to overcome today's challenges and to achieve their educational and economic aspirations," Hansen said. "A workforce development grant that prioritized collaboration to grow in-demand jobs with a focus on underserved communities was an incredible opportunity for CSU Pueblo's School of Nursing, Graduate School, and Operations and Advancement division to come together with community partners to create 'PLANT.'"
Key partners in the PLANT proposal include Spanish Peaks Regional Health Center, Mount San Rafael Hospital, Prowers Medical Center, San Luis Valley Medical Center, Trinidad State College, Adams State University, and Lamar Community College. These partners are essential in recruiting, training, and hiring students to become nursing professionals and nurse educators, especially in rural areas of our region. The sector-wide partnership also includes the Workforce Development Centers and Area Health Education Centers as well as the Southern Colorado Chapter of the National Association of Hispanic Nurses.
A total of 15 counties in Southern Colorado were identified as either a medically underserved area or a health professional shortage area. "These designations indicate that there is a clear need for attention to healthcare and economic mobility in Southern Colorado," Dean of the Graduate School Dr. Misty Sailors said. "Our industry partners are excited about the 85 new nurses, nurse leaders, nurse educators, and highly skilled nurse practitioners we will produce with our partners as a result of Opportunity Now funding."
PLANT also received $510,000 in funding from The Colorado Health Foundation to focus on its high school to Bachelor of Science degree in Nursing (BSN) pipelines. Click here to read more about The CHF grant and PLANT initiative. 
Opportunity Now Colorado is an $85 million grant program catalyzing transformative change for Colorado's workforce. To learn more, visit www.opportunitynow.co/.