CSU Pueblo Leaders Accepted to Prestigious National Institute Professional Development Programs
Release Date: June 20, 2023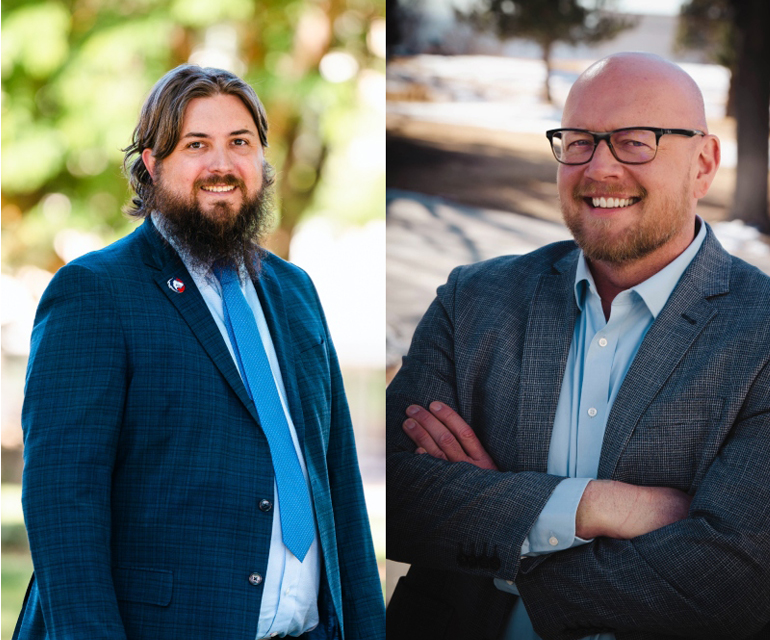 Top left to right: David Herman, Dr. Kevin Van Winkle
Pueblo— Two administrative leaders from Colorado State University Pueblo have been named to participate in competitive, national leadership programs offered by the American Association of State Colleges and Universities (AASCU). AASCU's intensive curriculum is designed to develop the skills and competencies necessary for the next generation of higher education leaders, including future cabinet members, provosts, and presidents. The 2023 cohorts will demonstrate their leadership skills to their campus community by leading an on-campus project or initiative with the support of their president and appointing vice president.
"Developing future leaders in higher education has never been more critical," CSU Pueblo President Dr. Timothy Mottet stated. "It gives me great pride knowing that our administrative leaders continue to complete these rigorous and competitive development programs provided by AASCU. The training these leaders receive positively impacts our students, employees, and the CSU Pueblo community." Mottet has been a member of the AASCU Board of Directors since 2021. He currently serves as the Treasurer.
Dr. Kevin Van Winkle, 2022-2023 Presidential Fellow and Associate Professor (2023) in the Department of English and World Languages, has been accepted to the year-long "Becoming a Provost Academy" (BAPA), a leadership program co-sponsored by AASCU and the American Academic Leadership Institute (AALI). Van Winkle was the recipient of AALI's prestigious BAPA fellowship. He will attend the opening seminar in Baltimore, Maryland in July and will complete a combination of in-person and virtual workshops over the next 12 months.
"It is an honor to be accepted into the 2023-2024 BAPA cohort. Academic programming and curriculum development have been key components of my work at CSU Pueblo. I am eager to gain valuable insights from my peers and other academic experts during this experience and to implement new ideas on our campus as part of this process," Dr. Van Winkle said.
Senior Facilities Director of the Physical Plant, David Herman, was one of 36 individuals accepted into the 2023-2024 "Emerging Leaders Program" (ELP). The six-month program develops motivated mid-career leaders and provides participants insight into critical higher education topics including academic affairs, alumni relations, change leadership, project management, and national trends impacting colleges and universities.
"I'm grateful for the leadership opportunities I've been given at CSU Pueblo," Herman noted. "Facilities management is critical across higher education, and I'm eager to learn more about the ways our team can support the academic mission and vision, contribute to campus planning, and enhance the appeal of campus."
Created in 2015, ELP helps prepare aspiring mid-career higher education professionals with the tools, resources, and support they need to advance their careers to the next level. Herman will attend an intensive three-day program in Washington, D.C. in June and participate in 12 interactive virtual sessions until December.
"David is an excellent candidate for the ELP program. I am confident this opportunity will help him grow in his capacity to lead and contribute even more to the day-to-day operations and strategic planning across our campus," Vice President of Operations and Advancement Dr. Donna Souder Hodge said.  Souder Hodge, a graduate of AASCU's BAPA and Executive Leadership Academy programs, will also be a featured speaker at this year's ELP session.
CSU Pueblo has a deeply cultivated partnership with AASCU. Three other campus leaders completed the program as part of the 2022-2023 cohorts. University first spouse, Rick Gonzalez, served as a founding co-chair of the organization's spouse/partner program. CSU Pueblo was recognized in 2021 with AASCU's Excellence and Innovation Award for Campus Pandemic Response.