THE DROP 104.7 Partners with REVOLUTION 89.5 to Launch "The Kickback with Unique" in Pueblo
Release Date: May 31, 2023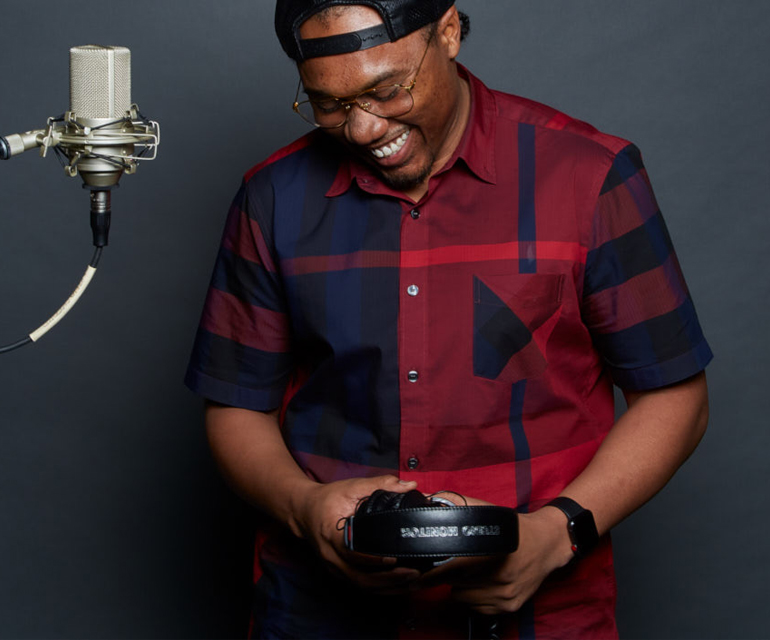 Denver, CO – Rocky Mountain Public Media, the parent company of Rocky Mountain PBS, KUVO JAZZ, and THE DROP, is thrilled to announce a groundbreaking collaboration with Colorado State University Pueblo, bringing one of the station's most popular radio shows to Pueblo. Starting June 1, 2023, Pueblo listeners can tune into live broadcasts of "The Kickback with Unique" on REVOLUTION 89.5 from Monday to Friday, 3:00 p.m. to 7:00 p.m.
THE DROP, "The People's Station for R&B and Hip Hop," is a commercial-free, publicly funded radio station broadcasting from the Buell Public Media Center in downtown Denver. In June 2019, THE DROP launched as one of the nation's first urban alternative public radio stations, thanks to a grant from the Corporation for Public Broadcasting. Now in its fourth year of operation, THE DROP is an award-winning platform for showcasing diverse local independent artists, community-responsive programs, events, and national artists.
"CSU Pueblo and the Media & Entertainment Department have a longstanding partnership with Rocky Mountain Public Media, empowering students to become media professionals since the 1980s. Through this collaboration with REVOLUTION 89.5, students will have greater access to professional learning opportunities by connecting with THE DROP hosts and staff in ways that enrich their educational experience," says Jon Pluskota, Chair of Media & Entertainment.
Unique, THE DROP's Assistant Program Director and host of "The Kickback with Unique," shared his excitement for extending THE DROP's reach to the Pueblo community. "This partnership with REVOLUTION 89.5 creates a bridge between Denver and southern Colorado, so we can offer cultural connections, amplify more diverse voices, and encourage listeners to explore what each region has to offer," Unique says. "I'm especially looking forward to connecting with CSU Pueblo students, getting to know their interests, and creating mentorship opportunities with those who are interested in radio and public media as a career."
Nikki Swarn, General Manager of THE DROP, credits the unwavering support from community partners and listeners in making this expanded access possible. "This is a special time for public media here in Colorado," says Swarn. "THE DROP has always been about the people. From creating our name to exploring new ways to engage daily with our listeners, our Colorado community is at the heart of everything we do. We are so grateful for an opportunity to extend this collaboration to Pueblo."
According to Unique and Swarn, the live broadcast collaboration is just the beginning of new cultural connections between THE DROP and the Pueblo community. Plans include local concerts, event partnerships, student collaborations, mentorships, and more. Stay tuned to REVOLUTION 89.5 for more details.
ABOUT COLORADO STATE UNIVERSITY PUEBLO
Colorado State University Pueblo is a comprehensive state university with an enrollment of nearly 4,000 students. With 34 percent of its students Hispanic, it is a designated Hispanic Serving Institution (HSI) and a military-friendly university. The university is dedicated to interdisciplinary learning and entrepreneurship that elevates its people and community, creates educational opportunities, fosters unique collaborations, and supports inclusion, access, and affordability as a gateway to the world.
ABOUT REVOLUTION 89.5
REVOLUTION 89.5 (REV 89) is a student-run, faculty-advised college radio station in the Department of Media & Entertainment at Colorado State University Pueblo. The station is committed to highlighting and embracing the diversity of the region through music and programming while transforming media and entertainment education through hands-on, experiential coursework. REVOLUTION 89.5 serves as a training ground for the next generation of media creators and leaders and is a non-commercial, educational station that relies on underwriting and sponsorship support.
ABOUT THE DROP 104.7
THE DROP 104.7 is a leading multi-platform lifestyle brand that provides a voice for new and independent music and popular culture with a focus around growth, awareness, and opportunities for diverse music communities through advocacy, education, and community engagement. THE DROP 104.7 is committed to protecting the integrity of Colorado's urban music scene by developing relevant influences and contributions, while supporting significant impacts on the fabric of Colorado's music culture. As a commercial-free radio station where most of its content is curated by the community, THE DROP 104.7 includes listener requests from old school hip-hop to deep cuts with a regular rotation of Colorado independent artists. THE DROP 104.7 proudly partners with diverse organizations, impacting the community and serving as a megaphone for public media's validity, relevance, and importance to Colorado's media landscape. For more information about THE DROP 104.7, check us out at www.thedrop303.org or engage with us via Facebook and Instagram @thedrop303 or download THE DROP 303 app on your mobile device.
ABOUT ROCKY MOUNTAIN PUBLIC MEDIA
Rocky Mountain Public Media (RMPM), the parent company of Rocky Mountain PBS (RMPBS), KUVO JAZZ 89.3 and THE DROP 104.7, is Colorado's largest statewide, member-supported, multimedia organization. Rocky Mountain Public Media has more than 90,000 members representing every county in Colorado and reaches 98 percent of the state's citizens through television, radio and digital platforms. A non-commercial media organization by and for the people of Colorado, RMPM creates high-quality local and multimedia content through Regional Innovation Centers in Denver, Colorado Springs, Durango, Grand Junction and Pueblo. RMPBS, started in Denver in 1956 as Colorado's first public television station, is now a statewide television network, with stations in Denver (KRMA), Pueblo/Colorado Springs (KTSC), Steamboat Springs (KRMZ), Grand Junction (KRMJ) and Durango (KRMU). KUVO JAZZ 89.3 broadcasts jazz, blues, and a lineup of locally produced diverse music programs. Launched in 2019, THE DROP 104.7 is the People's Station for R&B and Hip Hop. In 2020, RMPM relocated to the Buell Public Media Center. For information about the Center, RMPBS, KUVO JAZZ 89.3 and THE DROP 104.7, visit the media kit.