A Message From CSU Pueblo President Timothy Mottet
Release Date: May 15, 2023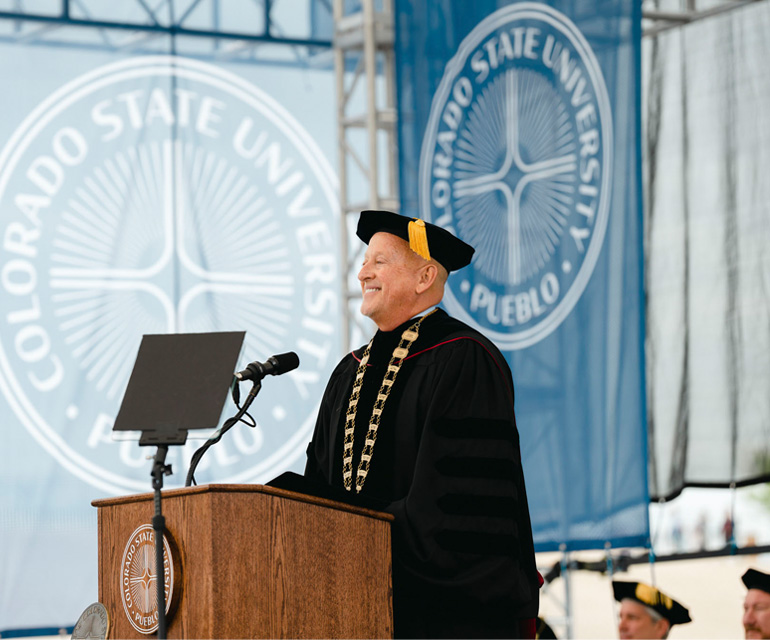 Dear Campus Community,
It is with an enormous sense of gratitude that I am announcing my departure from Colorado State University Pueblo, effective December 31, 2023. Though we have made many positive strides since 2017, I know I have accomplished all that I am able to do as your president. It's time for CSU Pueblo to take the next steps in the journey to become the people's university.
Rick and I have new opportunities that we are ready to explore and look forward to having the additional time and flexibility to do so. In the interim, I stand ready to support the CSU Pueblo leadership team, Chancellor Tony Frank, and the CSU System Board of Governors as they develop the pathway forward for your next leader. 
In addition to establishing a new vision, mission, and set of guiding principles, we have accomplished much as a campus community.
We have kept higher education accessible and affordable for our students by introducing the Colorado Promise where we cover the tuition for eligible students whose family income is below $70k. We have enhanced the student experience by providing new programming at both the baccalaureate, masters, and doctoral levels. We have completed over $75 million in capital renewal projects that modernized the campus, and we have generated over $23 million in external funding—all directed at enhancing student success. 
Our students continue to excel in and out of the classroom because of our commitment to experiential learning. CSU Pueblo consistently out-performs our peer institutions in student engagement because of the work they are doing alongside faculty, staff, and fellow students. Our investment in athletics has yielded nationally ranked teams comprised of student athletes who perform equally well in academics as they do in their sports.  
We have also kept our faculty and staff front and center. We have offered all employees expanded professional development opportunities, worked aggressively and consistently to increase compensation closer to market levels, and provided our people with new levels of employee benefits.
Our hard work has left the university in a more stable condition. We regularly manage budgets by aligning expenses with revenues. We control energy costs through our new 24-acre solar farm. We upgraded institutional technology infrastructure and have increased our fundraising through the creation of a new Advancement team. 
Thank you for helping us do this work. 
I would like to thank Dr. Tony Frank, members—both former and current—of the CSU System Board of Governors, and the CSU System Office for the support they have provided the university, my leadership team, and Rick and me the past six years. It has been a pleasure serving the State of Colorado, this campus, and the Pueblo community.  
With sincere wishes,
Dr. Timothy Mottet, President