Garrison Ortiz Named Chief Financial Officer at Colorado State University Pueblo
Release Date: May 02, 2023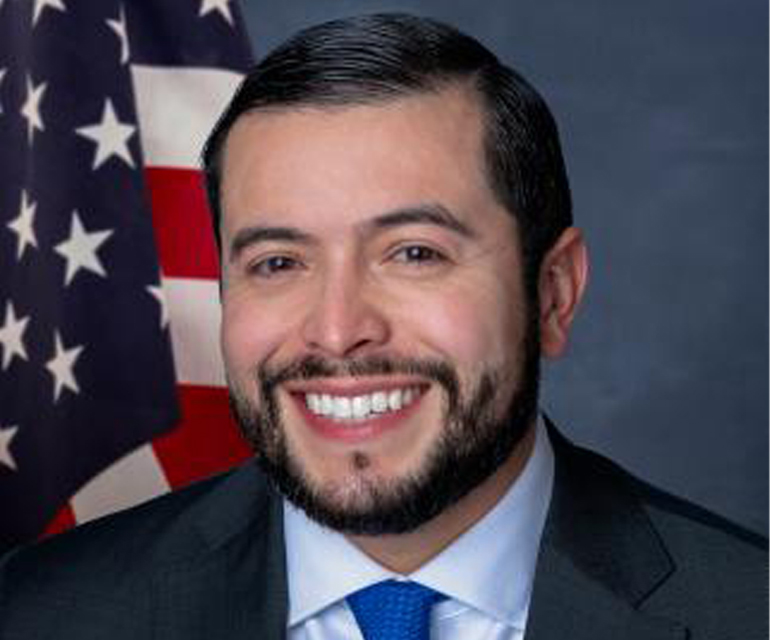 PUEBLO, CO - Colorado State University Pueblo has named Pueblo County Commissioner, Garrison Ortiz as the Chief Financial Officer (CFO) for the university. He will begin his duties on June 1, 2023. Ortiz has served as the Chair of the Board of Pueblo County Commissioners since 2017.
As CFO, Ortiz will work alongside CSU Pueblo's president and members of the cabinet to continue to execute and implement the university's shared vision, including strategic business development and the creation of predictive financial models to help track and report university performance to a variety of stakeholders including state and system officials. Juanita Pena has served in a dual appointment as CFO and University Controller since October 2021 and is expected to continue in the role of Controller beginning June 1. Meg Brewer, who has served as the University's Budget Director for more than 20 years, will step into a new role as Executive in Charge of Business Financial Services (BFS), and will serve as the point of contact for all day-to-day operations of university finances as Ortiz transitions into his new role.
According to CSU Pueblo President Dr. Timothy Mottet, "CSU Pueblo owes a sincere thanks to Juanita Pena for her work in BFS this past 18 months. As our controller, she has allowed us to develop new processes for internal and external audits, ensured that accounts receivable were well managed, and allowed us the opportunity to identify a new strategic direction we are confident will flourish under the leadership of Commissioner Ortiz. Additionally, I am incredibly grateful to Meg Brewer for her steady and continued leadership in BFS; she is one of our most stellar employees, and the university will benefit from Meg's two decades of experience."
Ortiz received his BS in Management and an MBA from CSU Pueblo. He is currently completing an Ed.D. in Leadership for Educational Equity in Higher Education at the University of Colorado, Denver. Ortiz is an adjunct instructor for CSU Pueblo and was appointed by the Governor to serve on the State Board of Community Colleges and Occupational Education (SBCCCOE) in 2021. In this appointed position, Ortiz reviewed and approved college and system budgets for a $500 million organization. He was appointed by his colleagues on the board to serve on the audit committee where he reviews the work of internal and external auditors. He has also recently served on the hiring panel for the President of Lamar Community College and on the strategic plan committee charged with formulating the new strategic direction for the community college system.
The search for CSU Pueblo's next CFO was chaired by Dr. Paul Plinske, Athletic Director and Vice President of Strategic Partnerships.
"Garrison will be a tremendous asset to CSU Pueblo as our new Chief Financial Officer. He is a trusted professional with strong connections to the Pueblo community and beyond. He will have an instrumental role in helping CSU Pueblo become the people's university. He is a great hire for CSU Pueblo and President Mottet," Dr. Plinske stated.
As the Chair of the Board of Pueblo County Commissioners, Ortiz has been responsible for an annual operating budget of over $200 million and a workforce of approximately 1,200 employees. He, alongside two other commissioners, acts as the final decision-maker for all financial, legal, operational, and political activities of Pueblo County Government.
In his role as Chair of the Commission, Ortiz has taken on many additional duties, including overseeing all public meetings, testifying on behalf of the board in front of the state legislature and other regulatory bodies, facilitating all real estate transactions on behalf of the county government, and managing all press inquiries. He has also championed Pueblo County's first Diversity, Equity, and Inclusion program within Pueblo County government.
According to Ortiz, "I'm honored to have served Pueblo County for the past seven years. I am looking forward to continuing my work in public service locally in the area of higher education. I wish my colleagues and county government the very best as Pueblo continues to strive for its brightest future. Our work together has just begun," Ortiz said.
Ortiz's final term as County Commissioner has been marked by several hallmark projects that broke ground in October of 2022. Pueblo County will be constructing the first net-zero energy detention facility in the nation at a $140 million construction cost. The project will be paired with a $40 million boulevard extension that will include two electric vehicle charging plazas, spur an estimated $32 million per year in economic development, and is planned to be the longest road in the world bonded with recycled plastics. The residential and commercial development impacts of both projects are forecasted to be equal to 4.2 percent of Pueblo County's total economy.
"I cannot think of a more qualified candidate for CSU Pueblo's next CFO, and I know that Garrison's passion for Pueblo and this institution will benefit our campus tremendously. His leadership and many competencies make him well-suited for the work ahead. Most importantly, Garrison understands our students, this community, the importance of a university degree, and the obstacles and challenges that students today face. He will be a standout member of the senior leadership team," President Mottet said.