Colorado State University Pueblo 2022-2023 Staff Award Winners Announced
Release Date: April 27, 2023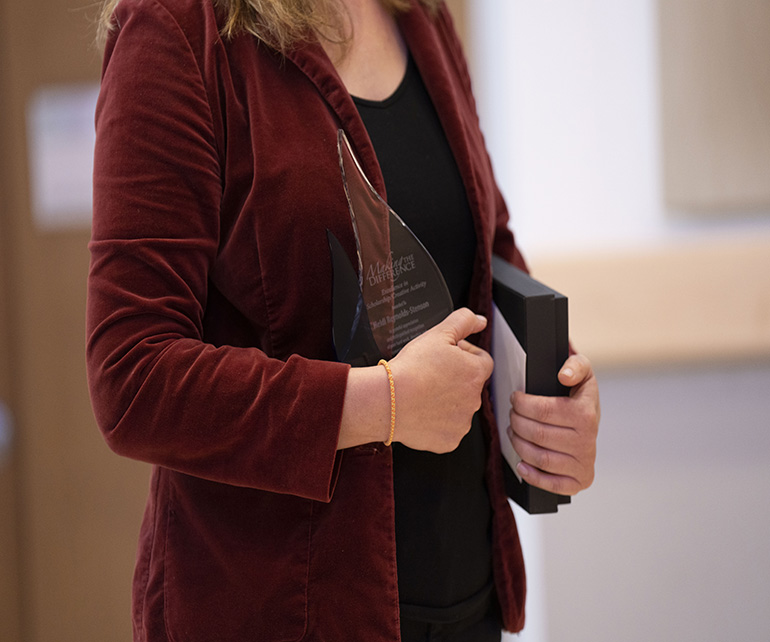 More than 300 faculty and staff members gathered together at the Occhiato Student Center Ballroom on Thursday, April 27 for the annual employee recognition luncheon. Each recognition  category was created to honor and celebrate achievements of faculty, classified and professional staff, outstanding teams, and a student's choice award. The awards recognize employees who have gone above and beyond during the academic year. Employees are nominated by CSU Pueblo students and employees, and each winner is selected by a designated committee composed of students, faculty, administrative or classified staff, and previous award recipients. 
The Outstanding Administrative Professional Staff Award recognizes CSU Pueblo professional staff members who consistently contribute to the University in an exceptional manner. The first place winner for the Outstanding Administrative Professional Staff Award is Esteban "Steve" Gomez, IT Technician. One of his nominators wrote, "Steve is one of those unsung heroes. I know that when I see he is taking care of the tech ticket, it will always be handled professionally and in a caring way."

The Outstanding Classified Employee Award is presented to classified employees who go above and beyond what is expected of them in serving the University Community. The first place winner for the Outstanding Classified Employee Award is Lynnette Leachman. She serves as the Assistant to the Dean of the College of Health, Education, and Nursing. Leachman's nominator wrote, "Lynnette continually demonstrates excellence with outstanding work, purposeful customer service skills, and clear communication and collaboration in and outside the school of nursing."
Associated Students Government President, Mikalya Lerch, presented the CSU Pueblo Students' Choice Award for Faculty. The winner of the Student's Choice Award for Faculty is Dr. Samuel Gockel, who serves as an Assistant Professor of Chemistry. One of his nominators stated, "Dr. Gockel does an outstanding job teaching and mentoring students, including research and overall success. I came out of his class with an A and a new understanding and passion for organic chemistry."
ASG Vice President Philip Flores presented the Students' Choice Award for Staff. The winner of the Student's Choice Award for Staff is Abby Davidson, who serves as the Director HSI STEM Grants. Davidson's nomination submission stated, "Abby has consistently shown her commitment to support our undergraduate students, student success and student organizations by helping organize club meetings, awarding students with national memberships and coordinating conferences and events on campus just to name a few."
President Mottet presented the Outstanding Team Award. This award is presented to an office, department, informal group, task force, or committee that has made a significant contribution to the University's operations, processes, student success, or morale. Teams are evaluated on how well they work collaboratively on a common project, service, or goal to consistently provide great service to our students and the campus.
The winner of this year's Outstanding Team Award is the Pack CARES Team. The team's nomination submission stated, "The Pack CARES team is an exemplary model of cross-campus collaboration and teamwork with proven student success outcomes. Team members from diverse functional areas dedicate themselves to uphold the health, safety, and welfare of the university community by assessing referrals and deploying intervention strategies in situations that may pose a threat to the safety and care of students, or the greater university community."
Dr. Helen Caprioglio, who serves as the Associate Provost for Academic Affairs, presented the six Faculty Awards for Excellence. "The faculty enrich our campus community with their teaching, and student mentoring, scholarship, creative activities, and dedicated service," Dr. Caprioglio said. 
This year's Faculty Excellence Award in Teaching and Student Learning is Dr. Kevin Duncan, Distinguished University Professor of the Hasan School of Business and Professor of Economics. Dr. Duncan was nominated for this award due to his instructional excellence through several published peer reviewed journal articles and conference presentations; along with several testimonies and declarations given to legislatures of several states. His recommendations have also been implemented in several states.
The award winner for Excellence in Scholarship and Creative Activity is Dr. Heidi Reynolds-Stenson, Assistant Professor of Sociology, Criminology and Anthropology. One nominator said, "Since her hire in 2018, Dr. Reynolds-Stenson has exhibited outstanding teaching skills, she has published five scholarly journal articles, all in extremely high-profile outlets, and is heavily involved in service activities."
The award winner for Excellence in Advising and Student Mentoring is Dr. Karen Krepps in the School of Education. She has provided high-quality advising and mentoring for the past three years as the lead advisor and instructor for the Early Childhood Education major. As one student stated, "I truly could not have asked for a better advisor to help guide me through college."
The award winner for Excellence in Service Award is Dr. Tina Twilleger, Assistant Professor in the School of Health Science and Human Movement. Dr. Twilleger demonstrates her passion and commitment for promoting education to underserved populations and dedication to experiential education through her many roles on campus and in our community.
The award winner for Excellence in Non-Tenure Track Teaching Award is Jamie Peralta, Visiting Assistant Professor in the Department of Social Work. Peralta has led efforts to develop students and faculty in her department, transform learning through international study abroad opportunities, and impact society through the education and skill-building of social work students in her region. 
The award winner for Excellence in Adjunct Teaching Award is Marina Cunin Borer, adjunct instructor for Anthropology, Women's Studies, and Sociology. Cunin Borer is recognized for her ability to engage students in course content and draw parallels to their personal and professional areas of interest. As one of her students said, "Dr. Cunin Borer goes beyond her expected role as a teacher and has currently become my mentor as I work on my master's applications."
The following faculty members were honored as the top faculty member(s) in their respective colleges for the 2022-23 academic year:
College of Humanities, Arts, and Social Sciences, Dr. Katie Brown, Associate Professor from the English and World Languages Department 

College of Health, Education, and Nursing, Lisa Persons, RN, Visiting Assistant Professor from the School of Nursing

College of Science, Technology, Engineering, and Mathematics, Franziska Sandmeier, Associate Professor of Biology

Hasan School of Business, Laee Choi, Assistant Professor

University Library, Betsy Schippers, Associate Professor of Library Services, Research and User Services Coordinator, Liaison Librarian for CHEN, and Library Chair