Men's Soccer advances to the NCAA Division II Championship Game, Watch Party Scheduled on Campus on Saturday
Release Date: December 02, 2022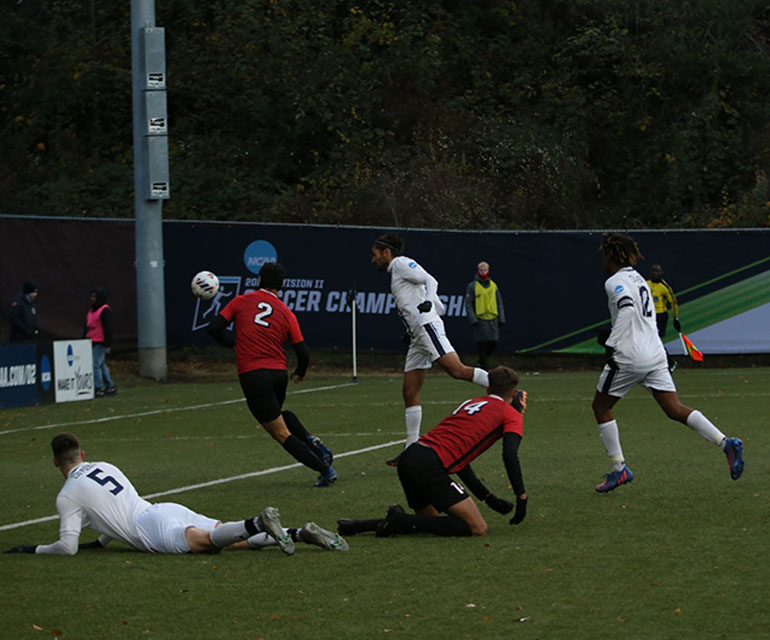 Seattle - CSU Pueblo Men's Soccer advances to the NCAA Division II Championship match set for 1 p.m. MST on Saturday, Dec. 3, at Interbay Stadium in Seattle. Teamwork led the Pack to their 1-0 victory over Barry University. With only 29 seconds left in regulation play, midfielder Caio Oliveira took a free kick near midfield and volleyed the ball to defender Shjon Andrews. Forward Gabriel Campora was in position to receive the volley from Andrews and landed a header into the net. This is the Pack's first appearance in a championship game.
The Men's team began their trip to the championship by hosting the second round of the NCAA Division II Tournament, where they defeated Cal Poly Pomona. The streak continued with another win against St. Mary's, who handed them their second loss of the season earlier in September. The team continued their march and triumphed over Northwest Nazarene, securing the South Central Regional title in Texas and sending the team to their first Final Four appearance in program history. Following the win in San Antonio, Coach Twelvetrees said, "What a special moment for the program and athletic department. I've been telling everyone how important it is to win a trophy and we got one now, and we want more."
The ThunderWolves currently holds a record of 19-3-2. The Pack hopes to secure their 20th and final win of the season on Saturday. The campus will host a watch party at Da Brix, located inside the Occhiato Student Center. Food and drink specials start at noon. This event is open to the public, and the community is invited to attend and cheer on the Pack. The game can be streamed online here. 
The Pack has had a record-breaking season, out-shooting their competitors with a shots-on-goal average of 158-310 compared to 67-155. The team had an appearance at the NCAA Tournament in 2021, where they lost in the second round.