CSU Pueblo Music Department hosts the 12th edition of the Pueblo Keyboard Arts Festival
Release Date: November 03, 2022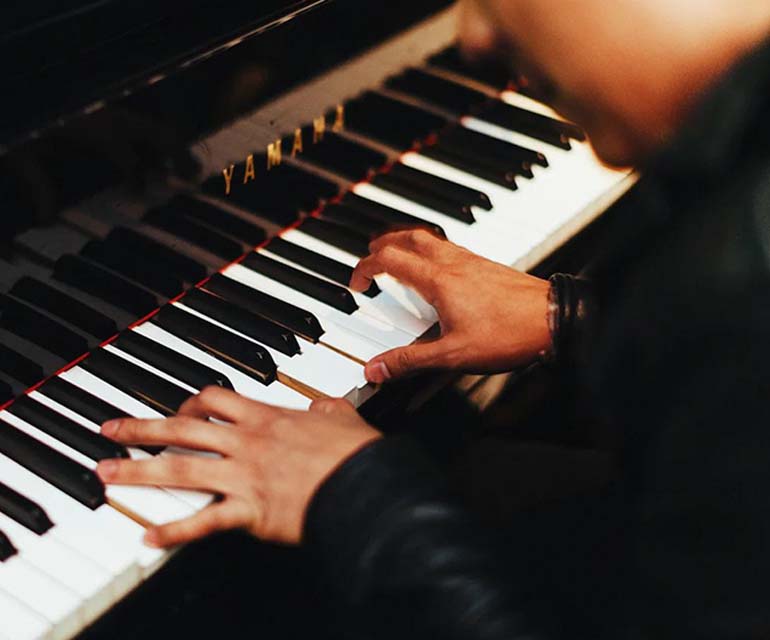 PUEBLO –  The Department of Music at Colorado State University Pueblo announces the 12th edition of the Pueblo Keyboard Arts Festival at Hoag Hall on Friday and Saturday. The festival aims to combine quality musical programs with educational opportunities for young and college-aged pianists.
The Pueblo Keyboard Arts Festival brings together students and faculty from CSU Pueblo and local piano teachers, students and music lovers. Professor of Music at CSU Pueblo and Festival Director Dr. Zahari Metchkov is excited to welcome the community to campus. "We hope to provide a welcoming platform for all interested in immersing themselves in the art of keyboard playing," Dr. Metchkov said. "It is my hope that participants and the audience will find this festival serves as a source of inspiration, knowledge, and one of the many elements that lead to the growth of the 'complete musician.'"
The two-day festival begins with a master class for CSU Pueblo Students with guest artist, Dr. Michael Schneider at 1 p.m. on Friday. A two-hour master class session is offered for collegiate, high school and middle school students with Dr. Schneider and festival director, Dr. Zahari Metchkov in the evening.
The Young Artist Competition begins at 9 a.m. on Nov. 5 with the junior and senior solo competitions. The Piano Ensemble Division follows at 12:30 p.m. and is open to juniors, seniors and adults. The ensemble division includes one piano featuring four, six or eight hands, or two pianos featuring four, eight and 12 hands. Over $1,000 in cash prizes are awarded in all divisions.
The festival culminates with the Piano Monster Concert at 7 p.m. on Nov. 5. The concert features five grand pianos played simultaneously with performances by CSU Pueblo faculty, students and alumni, along with guest artists from across the state.
All events are located at Hoag Hall and are free and open to the public.
Applications for the masterclass and competitions are available online at zaharimetchkov.org/festivals. Additional questions may be directed to Dr. Metchkov by emailing zahari.metchkov@csupueblo.edu. 
About PKAF Guest Artist: Dr. Michael Schneider
Critics have hailed Michael Schneider as "a pianist with exceptional insight" and a "performer with great panache" in performances across the states and overseas. Michael has performed in such venues as the legendary château of George Sand in Nohant, France, performing an All-Chopin recital as a guest artist in the International Chopin Festival, Carnegie's Weill Recital Hall as a prizewinner of the Frinna Awerbuch International Piano Competition, the Library of Congress (Washington DC), and the Liszt Museum in Budapest. Other appearances include recitals as a guest artist on the Festival Pianistico "Elvira Calabria" in Italy, the Benno Moiseiwitsch Series at the Music Festival of the Hamptons directed by Lukas Foss, Pianotune Festival in Brussels, the 2nd Hungarian Festival in Cancun, Mexico, and the Paderewski Festival in Paso Robles, CA. Michael was a featured artist at both the California Music Teachers Association Annual Conventions (2008, 2009, 2011) and the Texas Music Teachers Association Annual Conventions (2008, 2013) as solo artist, master class teacher, lecturer, and town hall panelist. Michael Schneider has been on the faculties of the Dana School of Music at Youngstown State University in Ohio, the University of Mary Hardin-Baylor, Concordia University-Austin, and the University of Texas Butler School of Music. He holds degrees from the University of North Texas, the Cleveland Institute of Music, and received his Doctorate in Performance from the University of Texas at Austin. His greatest influences come from his studies with Pamela Mia Paul, Paul Schenly, Anton Nel, and a period of study with the late Maria Curcio in London.
About PKAF Director: Dr. Zahari Metchkov
Both a pianist and an organist, Dr. Zahari Metchkov has performed at such venues as New York's Avery Fisher Hall and Washington's Kennedy Center. He has concertized in China, Israel, Bulgaria, and the United States. Dr. Metchkov released his first CD in 2008 - a recording of works for piano and orchestra by Franz Liszt and Cesar Franck and a second recording project featuring solo works for piano and organ completed in the Spring of 2014. In 2022, he premiered with the Pueblo Symphony his orchestration for piano and orchestra of Rachmaninoff's Fantasy No. 1, originally for two pianos.
A native of Sofia, Bulgaria, Dr. Metchkov holds a DMA in piano performance from the Cleveland Institute of Music, Cleveland, Ohio. He is a Professor of Music at Colorado State University-Pueblo, teaching applied piano, chamber music, and pedagogy. Zahari was the 2013 recipient of the CSU Pueblo's Outstanding Service and Transformative Leadership Award and the 2014 recipient of CHASS Outstanding Faculty of the Year. In 2018, he received the Steinway & Sons Top Teacher Award. In 2022 he received the Colorado State Teachers Association "Teacher of the Year" Award. Dr. Metchkov has also taught at the Cleveland Institute of Music as well as Youngstown State University. Currently, Dr. Metchkov is the Artistic Director of the Pueblo Keyboard Arts Festival and Piano Conversations Concert Series, Pueblo. From the summer of 2022, he serves as Organist and Director of the Concert Series at First Christian Church, Colorado Springs. Placing high priority over the education of young pianists in Southern Colorado, Dr. Metchkov has served as President of the Colorado State Music Teachers Association, a chapter of the Music Teachers National Association. He is a founding member of the Southern Colorado Music Adventure.