FFA Students Showcase Knowledge, Skills During State Convention at CSU Pueblo
Release Date: June 10, 2022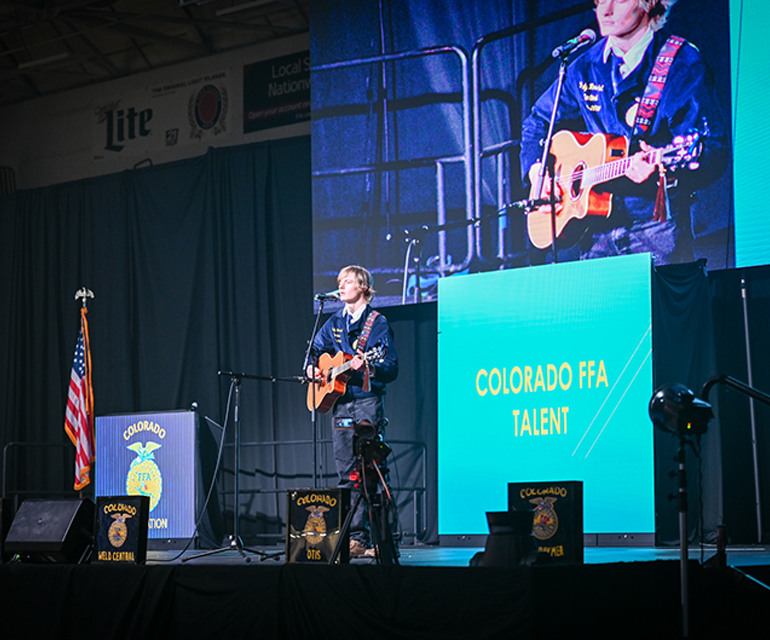 Pueblo— Colorado State University Pueblo's Massari Arena reverberated Thursday, June 9, with the cheering, shouting, clapping and bass drum-like pounding of more than 2,000 pairs of stomping teenaged and 20-something feet.
It was the closing session of the Colorado FFA 2022 convention, the first such in-person gathering the agricultural education and leadership-centric program have conducted since COVID-19 struck in 2020. Over the course of the three-day, campus-wide convention, the youngsters showcased their ag-industry prowess, while also competing in public speaking, quiz bowl and talent events, to name a few.
Stephanie Bushnell glowed as she watched a multimedia awards presentation honoring outgoing board members, celebrating the incoming board and cheering on the Star State Farmer, the program's top honor. Bushnell, a student of agricultural education at West Texas A&M and former FFA state office holder, got a bit emotional as she watched her younger peers cheer on their colleagues' successes.
"It's so exciting to be a part of something bigger," she said. "I'm the first FFA member in my family. … It taught me how to speak in public, how to shake hands, how to look you in the eye when I talk to you."
The gregarious young woman from Fort Lupton insisted she was introverted and shy when she started FFA classes in high school, but to chat with the future teacher a half-decade later, you may not believe it. A lifelong horsewoman who was struggling to find her place, she got recruited early in her high school career to take an introduction to agriculture at a nearby school.
In her younger years, she said, she bused from Erie High School to attend the course, where a patient teacher helped her find both her voice and her calling.
"FFA is all about leadership," Bushnell explained. "The purpose of FFA is to expose [members] to areas that are going to contribute to their personal growth."
Bushnell spent the 2019-20 academic year as the state recorder, an elected position backed by the roughly 8,000 Colorado members enrolled in the program. Getting to that point was no small task.
Just to become a candidate for state-wide office, a student must go through a rigorous, multi-tiered qualification process that starts with high school graduation and includes service work,
multiple interviews, public speaking, on-the-job training and eventually an election.
"It's probably harder than any job interview they'll have in their lives," Bushnell said, while the 2022-23 officers were introduced to the enthusiastic crowd.
Collin Ochsner gave a shy smile as he held the plaque declaring him the Star State Farmer. At 19 years old, the member of the Platte Valley High School chapter of FFA and ag entrepreneur has big plans to carry on his family tradition of cattle ranching.
Oschner helps run the Kersey-based ranch where the family raises registered beef cattle, corn silage and alfalfa hay. He also manages his own herd of cattle and competes throughout the region on a trio of highly trained ranch horses.
After six years in FFA, the Weld County resident is taking his attention and considerable knowledge to Texas Tech University in Lubbock, Texas, next year to study agricultural science with an emphasis in business and compete with the Ranch Team. 
He estimated he has logged more than 6,500 hours in his time with FFA, learning the ins and outs of the ever-evolving ag industry, and growing his skills as a leader, communicator, advocate and mentor.
"This is a culmination of all my experiences not only in FFA but my life in general," he said.
FFA in Colorado traces its roots to 1928, when a handful of local agriculturalists from Southern Colorado gathered to solidify support for agricultural education. It changed its name to the National FFA Organization in 1998, to recognize that FFA is not only interested in farming, but also in the many diverse industries — including science, business and technology — that support production farming.