CSU Pueblo Names Canvas Credit Union as University's Official Credit Union Partner
Release Date: May 09, 2022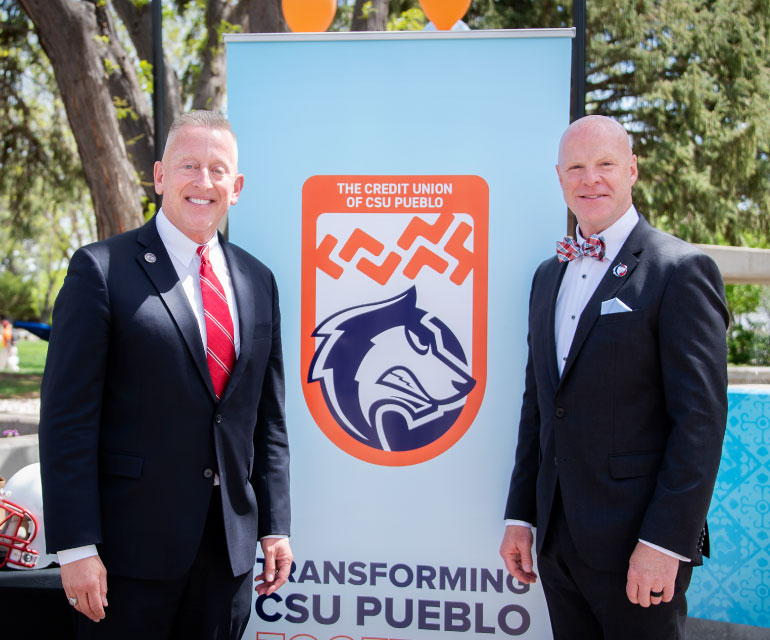 Canvas to expand impact into southern Colorado, strengthening commitment to CSU system
Canvas Credit Union, one of Colorado's leading credit unions for more than 84 years, and Colorado State University Pueblo are pleased to announce the upcoming launch of their strategic partnership. Canvas has been awarded a five-year agreement to serve as the official credit union of CSU Pueblo kicking off in July and will operate a branch out of the university's Occhiato Student Center. The relationship reinforces Canvas' commitment to the CSU system, building upon the credit union's sponsorship with Colorado State University in Fort Collins.
With 33 branches throughout metro Denver, northern Colorado and the Western Slope, the partnership marks Canvas' expansion into southern Colorado. Canvas' entrance into Pueblo emphasizes the impact the credit union aims to amplify throughout Colorado in its efforts to elevate the financial situation of all Coloradans and strengthen communities.
Through a collaboration centered on values for financial education, innovation and community investment, Canvas will bring its industry-leading financial services to the campus. Structured similarly to its relationship with CSU in Fort Collins, the credit union will deliver exclusive benefits for university students, alumni, faculty and staff. Canvas will launch its student account services, designed to focus on the unique needs of college students and young adults. The partnership will also explore an alumni credit card, financial literacy programing, plus potential partnerships with CSU-Housing to provide financial assistance for homebuyers and special offers for CSU affordable housing.
Aligned with one of Canvas' pillars of community giving – schools – the credit union is also committed to investing in CSU Pueblo students. Canvas will support CSU Pueblo students through various initiatives, including the CSU Pueblo Journey scholarship program totaling $500,000 over the five-year agreement.
"We are wildly passionate about supporting students and steering their financial wellbeing early in life," said Todd Marksberry, CEO & president at Canvas Credit Union. "To us, few things are more exciting than the opportunity to help share the power behind the credit union movement with students, as the future of our community. In collaboration with CSU Pueblo, we know we can bring more support, value and community investment to southern Colorado, and ultimately help more Coloradans afford life."
CSU Pueblo selected Canvas Credit Union as its credit union partner in support of the university's goals to elevate the student experience, enhance the appeal of campus and develop its people. The partnership aligns with CSU's recently launched 10-year campaign for investment into the Pueblo campus, recognizing the regional college and surrounding communities have been disproportionately impacted by the economic recession and pandemic.
Southern Colorado is a key driver to Colorado's diverse economy, with CSU Pueblo as a central hub providing degree programs in high-demand jobs and generating 1,500 direct and indirect city employment impacts. Canvas' alignment with CSU Pueblo and entrance into the region signifies the draw and steady growth that southern Colorado is fostering for businesses and residents, and the important role the region plays in the wellbeing of the entire state of Colorado.
"Southern Colorado is historically and culturally rich, and it is important that we select partners who share our love for Colorado and will honor the qualities that make our region unique. Welcoming Canvas into our ranks will only elevate our efforts to reinvigorate the Southern Colorado community following the impacts of the pandemic and fuel the forward momentum the region is experiencing," said Donna Souder Hodge, vice president of operations and advancement at CSU Pueblo. "We know our relationship with Canvas Credit Union will bring immeasurable value to our 4,000 students and the larger Pueblo community comprised of 120,000 residents."
Extending its support of the CSU system, Canvas kicked off its 15-year sponsorship deal with Colorado State University in Fort Collins in 2018. Canvas operates the Lory Student Center Branch on campus, offers dedicated CSU account services for students, faculty and staff, and holds the naming rights to the university's Canvas Stadium.
"We have seen firsthand the impact that Canvas has had within the CSU system, and we couldn't have asked for a more dedicated partner to stand shoulder-to-shoulder with us as we head into the next chapter for our university," said CSU Pueblo President, Timothy Mottet."Like most industries, higher education has undeniably shifted through the course of the pandemic, and we are focused on harnessing the opportunities that have opened up to us to deliver an even more dynamic experience for our students. It is critical that we partner with organizations who will walk this journey with us, share our values, continually strive for innovation, and are driven to serve."
The partnership comes on the heels of Canvas' merger with Grand Junction-based Western Rockies Federal Credit Union, marking Canvas' western expansion into Colorado's Western Slope community. Driven by its commitment to Coloradans and the opportunity to spread impact throughout the state, Canvas is eager to advance its vision of being a leader in the communities it serves as it steps into southern Colorado and the Western Slope this year.
---
About Canvas Credit Union (canvas.org)
Canvas Credit Union is a safe and insured financial institution with over $3.8 billion in assets and nearly 284,000 members. Canvas provides a full array of financial products and services, including savings, checking, loans, mortgages, and online and mobile options. Serving Colorado communities for more than 84 years, Canvas currently has 33 branches. Internally, Canvas is well recognized for its culture and has been certified by the Great Place to Work® Institute for four consecutive years.
About Colorado State University Pueblo 
Colorado State University Pueblo is a comprehensive state university with an enrollment of nearly 4,000 students. With 34 percent of its students Hispanic, it is a designated Hispanic Serving Institution (HSI), and a military friendly university. The university is dedicated to interdisciplinary learning and entrepreneurship that elevates its people and community, creates educational opportunities, fosters unique collaborations, and supports inclusion, access, and affordability as a gateway to the world.
Contact Information
Marissa Hoffman
Dovetail solutions for Canvas Credit Union
303.506.2497