Colorado State University Pueblo's Spring Symposium Returns After Two-Year Hiatus
Release Date: March 31, 2022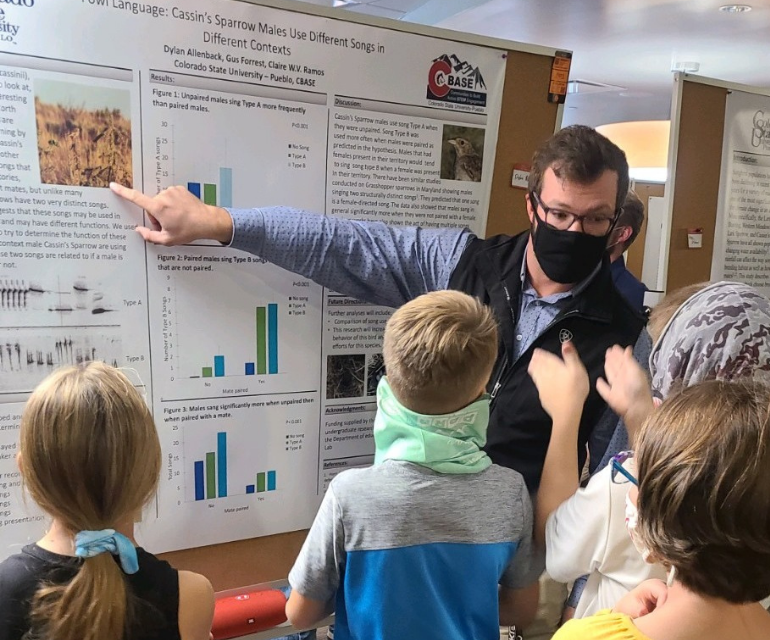 Pueblo— Colorado State University Pueblo's Spring Symposium returns after a two-year hiatus. The eighth annual Spring Symposium will take place Friday, April 8, 2022, in the Occhiato Student Center Fireplace Lounge. The mission of the Spring Symposium is to serve as a forum for the dissemination and discussion of scholarly ideas and to foster interaction among students, faculty and the local community.
"I have the honor of serving as the chair for this year's Spring Symposium. This year is especially significant, as it is the first time since 2019 that the Spring Symposium will be happening," said the director of tutoring and student support, Abby Davidson.
The 2022 Spring Symposium will celebrate research, scholarship, and creative activity and invites undergraduate and graduate students from CSU Pueblo to present their original research, scholarly and creative products to the university and public.
CSU Pueblo student participants were chosen through an application process that included submitting an abstract proposal. Before applying, students must have identified a faculty advisor or mentor who was familiar with their research and could provide approval. Students then chose between an oral presentation, a poster presentation or a creative demonstration.
Each presentation style will operate between specific time slots. For oral presentations, students will have 45 minutes to present their work and answer questions. Oral presentations will be divided into four, 45-minute sessions at 9 a.m., 10 a.m., 1 p.m., and the final session at 2 p.m.
Three poster sessions will be facilitated during the Spring Symposium with Session I from 9 a.m. to 11 a.m., Session II from 11 a.m. to 1 p.m., and Session III from 1 p.m. to 3 p.m., with students required to present during one session.
Creative demonstrations are given up to one-hour time slots. Two creative demonstration sessions will be available with the first session at 11 a.m. and the second session at 1:45 p.m.
"It is so important to shine the spotlight on the amazing scholarly and creative works of our students, and I'm excited to learn from them on April 8th," said Davidson. "I hope that students, faculty, staff, and community members also attend to learn all about their work as well.
For more information on the 2022 Spring Symposium, visit the Spring Symposium website or contact the committee chair at abby.davidson@csupueblo.edu.