Student Symposium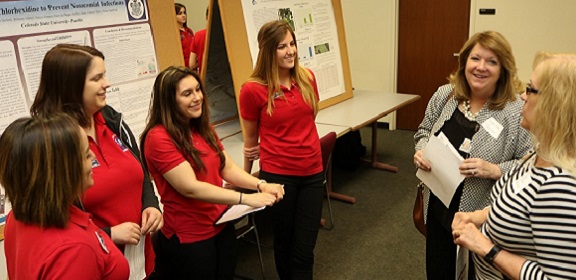 2020 Call for Abstracts
The eigth annual Student Symposium: A Celebration of Research, Scholarship, and Creative Activity invites students and recent graduates from Colorado State University-Pueblo to present their original research, scholarly, and creative works to the university and public. The Symposium's mission is to serve as a forum for dissemination and discussion of scholarly ideas and to foster interaction among students, faculty, and the local community. 
Symposium Information
When: Friday, April 10, 2020
Where: Occhiato Student Center, CSU-Pueblo campus
Deadline: The deadline for abstract submission is 12 pm on Monday, March 23, 2020
Submission Instructions
Prior to Submission
FACULTY MENTOR: Identify a faculty member who is aware of and has advised or mentored your project. Faculty approval is required for all applications. You must identify the faculty advisor/mentor on the abstract submission form.
IRB APPROVAL: If your project requires IRB approval, you must obtain it PRIOR to starting the project, and upload it in the application. Check the Compliance and Review Boards website for more information.
Presentation Types
ORAL: A 15-minute oral presentation with 5 minutes Q&A. Oral presentations are organized into 1-hour time blocks.
POSTER: Poster sessions are organized into 2–4 hour time blocks and must be staffed by at least one researcher for the entire session.
OTHER: Art, music, and other creative works. Please provide details on the nature of your presentation in the application.
Detailed instructions on participation and scheduling will be emailed with the committee's decision on each application.
Publishing
All presenters may submit their posters, slides, and other works to the CSU-Pueblo Digital Repository, where they will be made permanently and publicly accessible.
Students may also submit a manuscript to El Rio: A Student Research Journal, a student-run research journal at CSU-Pueblo that focuses on outstanding student work from the humanities, behavioral, social, natural, and health and applied sciences.
Creative works may be submitted to Tempered Steel, the university's literary magazine.
Application Directions
Abstract Format

Abstract should be written in the format appropriate for your discipline.
Abstract should be in complete sentences, and no longer than 300 words.
Include IRB status in methods section, if applicable.
Art, music, and creative works should be submitted as "Other" and describe the form of presentation.
Primary Contact

If working in a group, identify ONE group member to serve as the primary contact for the application. The primary contact must provide each group member's name, hometown (city, state), major and emphasis, and degree level on the application.