Spring Symposium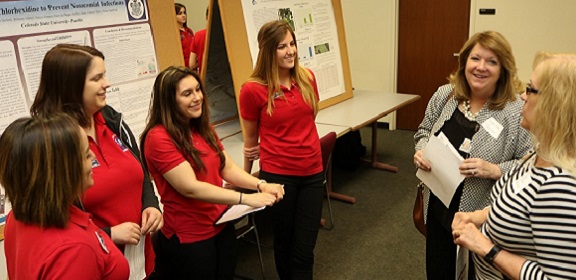 2023 Call for Abstracts
The Ninth Annual Spring Symposium: A Celebration of Research, Scholarship, and Creative Activity invites undergraduate and graduate students from Colorado State University Pueblo to present their original research, scholarly and creative products to the university and public. The Spring Symposium will take place Friday, April 7, 2023 in the LARC (LINC), with the mission of being a forum for dissemination and discussion of scholarly ideas and to foster interaction among students, faculty and the local community. Please read the 2023 Spring Symposium Call for Abstracts for complete information. Additional resources are listed below.
Spring Symposium Information
When: Friday, April 7, 2023
Where: LINC, on the 2nd Floor of Library and Academic Resource Center (LARC), CSU Pueblo Campus
Poster Printing Details
Posters must be reviewed and approved by a faculty mentor before printing. After approval, make a plan to print your poster. For additional information concerning this process and available poster printers on-campus, please access the Spring Symposium Poster Printing Guide.
Publishing
All presenters may submit their posters, slides, and other works to the CSU Pueblo Digital Repository, where they will be made permanently and publicly accessible.
Students may also submit a manuscript to El Rio: A Student Research Journal, a student-run research journal at CSU Pueblo that focuses on outstanding student work from the humanities, behavioral, social, natural, and health and applied sciences.
Creative works may be submitted to Tempered Steel, the university's literary magazine.