Colorado State University Pueblo Hosted Celebration of Life Honoring Those Lost During Pandemic
Release Date: September 24, 2021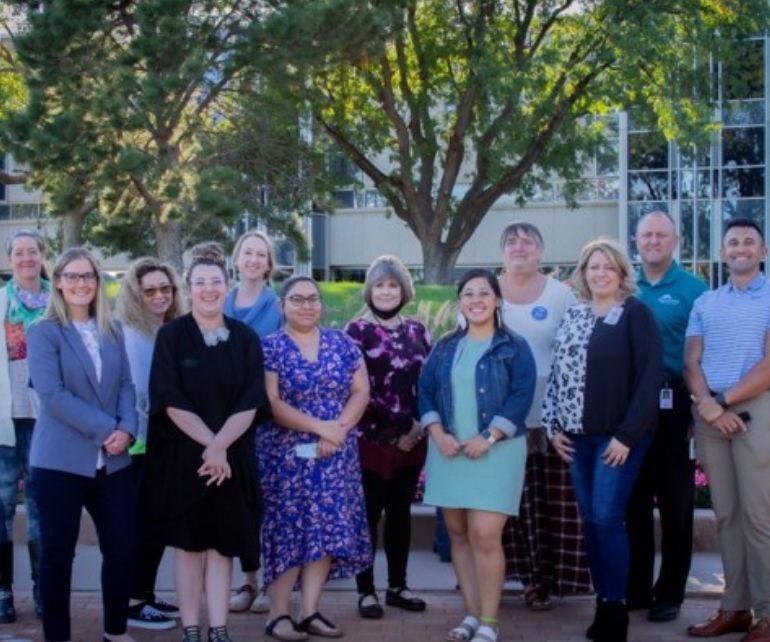 PUEBLO—Colorado State University Pueblo hosted a Celebration of Life for all those lost during the COVID-19 pandemic on campus at the University fountain on Wednesday, Sept. 22 at 5:00 p.m. The event was hosted by the CSU Pueblo Counseling Center in partnership with Sangre de Cristo Hospice.
Director of CSU Pueblo's Counseling Center, Joanne (Joe) Smiley, shared about how the event was organized to take place on campus.
"All of our lives have been changed by COVID, and we have all lost so much," said Smiley. "This ceremony gave us an opportunity to celebrate the lives of the ones we lost. This gave us a chance to honor our loved ones and let their spirit guide us as we move on."
Students, faculty, staff and community members were invited to join the commemorative event and provided an opportunity to share a story of their loved one, friend or family member who was lost in the last 18 months since the pandemic began. Individuals lost over the last 18 months may not have been a direct result of COVID-19, but all who were in attendance were invited to share in the celebration of life. Anyone who participated in the event was encouraged to bring a photo of their loved one to share during the evening.
"We're grateful for the community partnership with Sangre de Cristo Hospice to provide support to our students, faculty, staff and campus community," said Smiley. "We took this Celebration of Life as an opportunity to come together, move on from the negative and focus on the positive of the future."
Sangre de Cristo Hospice assisted with the event with music, stories, prayer and tea lights. CSU Pueblo Counseling Center staff was onsite for anyone needing to speak to a mental health or healthcare professional.
CSU Pueblo has experienced multiples losses to the campus community throughout the pandemic, and the event provided an opportunity for many members to receive closure, speak to a professional or honor the life of someone they loved.
Photo of Celebration of Life event provided by Erin Berry, LSW and family service coordinator of Sangre De Cristo Community Care.