David Lehmpuhl Appointed Dean of STEM
Release Date: December 16, 2021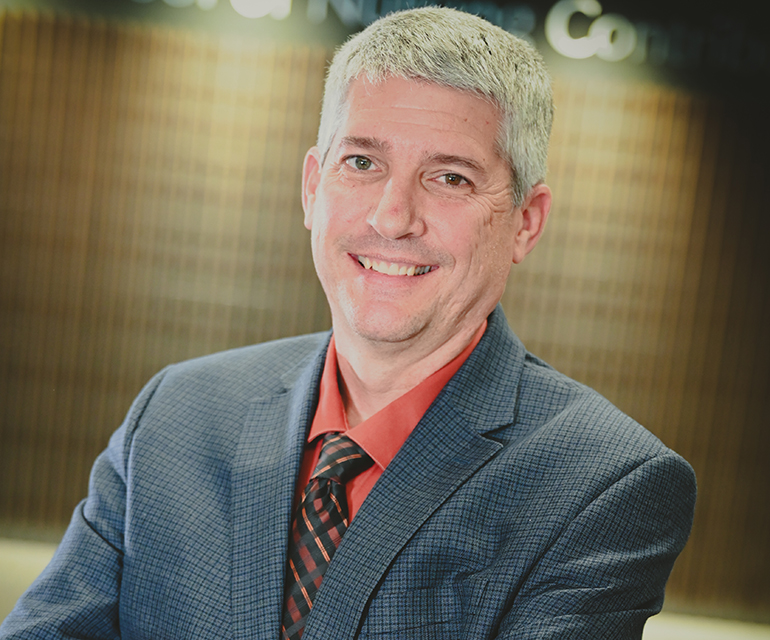 PUEBLO — Colorado State University Pueblo has announced that David Lehmpuhl will assume the role of dean for the College of Science, Technology, Engineering and Mathematics (STEM). 
"It is my pleasure to announce that David Lehmpuhl will serve as the inaugural dean for the College of Science, Technology, Engineering and Mathematics starting Jan. 1, 2022," said Provost and Executive Vice President for Academic Affairs, Mohamed Abdelrahman. "Lehmpuhl has been serving admirably as interim dean for the past two years and before that he served as the dean of the College of Sciences and Mathematics."
For the past 23 years, Lehmpuhl has worked to educate CSU Pueblo students in the STEM fields. Lehmpuhl served as the interim dean of STEM since July of 2020. In this capacity, Lehmpuhl has supervised the 35 tenured faculty and 25 non-tenured faculty who teach in the College of STEM.
"I'm deeply honored and very excited to serve as the inaugural dean of STEM," Lehmpuhl said. "With such an outstanding group of dedicated faculty and staff full of ideas for creating successful students, I look forward to helping ensure those ideas come to fruition so that our amazing students can leave CSU Pueblo extremely well-prepared to be the next generation of scientists, mathematicians and engineers." 
Lehmpuhl helped launch CSU Pueblo's new Cannabis Biology Chemistry degree. Under his guidance, CSU Pueblo also created the Wildlife and Natural Resources major which enrolled 60 students in just two years.
As interim dean of STEM, Lehmpuhl managed the department's budget. Lehmpuhl has succeeded in raising funds for the department. He oversaw a Title III grant that will give CSU Pueblo $1 million dollars per year for the next five years. In September, Lehmpuhl secured a $10,000 donation from Warren Diodosio to the program.
Prior to the establishment of the College of STEM, Lehmpuhl served as dean for the College of Science and Mathematics from 2015 to 2020. He also worked in this position in an interim capacity from 2012 to 2013.
Lehmpuhl's leadership on campus began in 2004 when he assumed the role of chair for the Department of Chemistry. While working as chair, Lehmpuhl doubled the number of Chemistry majors on campus. 
In 1998, Lehmpuhl began teaching at CSU Pueblo as an assistant professor of Chemistry. He became a tenured professor of Chemistry in 2009. In his career, Lehmpuhl taught Chemistry, Forensic Science, Advanced Instrumentation and several lab courses.
Since joining the university, Lehmpuhl has served on numerous committees. He currently sits on the President's Budget Advisory Committee, the Scholarly Activities Board, the University Leadership Team and the Honors Program Steering Committee among others. Lehmpuhl, along with Associate Dean of the College of Health, Education and Nursing and Director of the School of Education, Jeff Piquette, leads the Technology Building Renovation Committee as well.
Lehmpuhl has guided 48 students through the Service to Students Mentoring in Research program. Lehmpuhl's own research has appeared in 15 publications. He has also presented his research over 40 times in his career.
At CSU Pueblo, Lehmpuhl has been involved in numerous community outreach projects. His work includes coordinating National Chemistry Week on campus, serving on the KMG Electronic Chemicals Community Advisory Panel and hosting Discover Days for potential students.                                                    
In 1992, Lehmpuhl graduated magna cum laude with his Bachelor of Science in Chemistry from the University of Colorado Colorado Springs. He earned his Ph.D. in Analytical Chemistry from the University of Colorado Boulder in 1997. Lehmpuhl began his career as professor in 1997 at Colorado College, teaching one year before joining the faculty at CSU Pueblo.