Colorado State University Pueblo Celebrates the Legacy of Martin Luther King Jr.
Release Date: January 14, 2021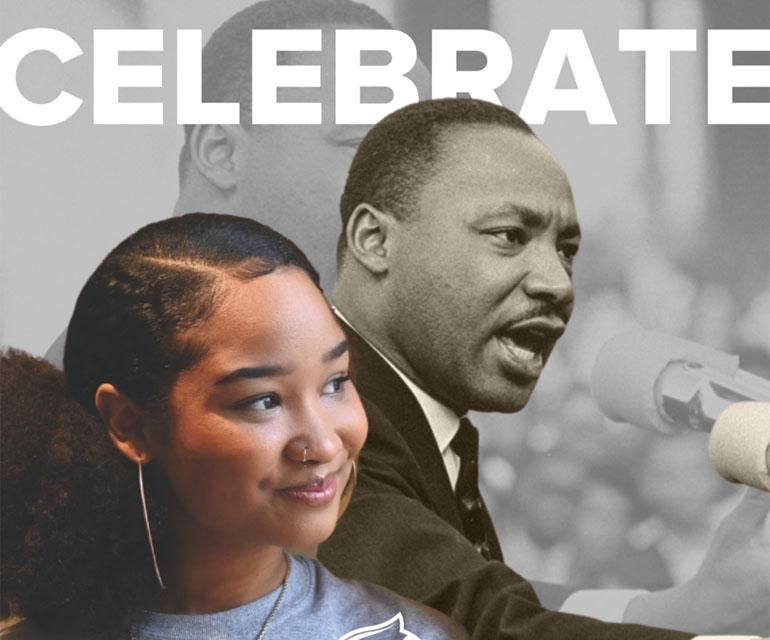 PUEBLO—Colorado State University Pueblo will celebrate Martin Luther King Jr. Day in an online format on Monday, Jan. 18 with programming accessible to the general public. Martin Luther King Jr. Day events will highlight work in the Pueblo community, the efforts of students on campus, present an opportunity for learning and discourse at CSU Pueblo.
Martin Luther King Jr. Day will begin with a greeting from President Timothy Mottet during his Monday Minute With Mottet message. Mottet will welcome students back as they begin the spring semester and invite the CSU Pueblo community to engage in online events throughout the day. All Monday Minute With Mottet messages are distributed through campus-wide email and can also be found on the university's YouTube channel.
The newly appointed Director of Equity and Inclusion, Victoria Obregon, was charged to elevate the Martin Luther King Jr. Day celebration on CSU Pueblo's campus. "CSU Pueblo is committed to celebrating important holidays on our campus, including Rev. Dr. Martin Luther King Jr. Day," said Obregon. "This is an opportunity to pause for reflection, offer discourse, and provide perspective as we engage with one another even if it is done virtually."
CSU Pueblo welcomes the President of the National Association for the Advancement of Colored People (NAACP) Pueblo branch, Roxana Mack, who will provide a lecture on the history of the Pueblo NAACP and the legacy of Martin Luther King Jr. Mack has served as president of the NAACP Pueblo for four years and had a career in the criminal justice system, working 25 years in the Department of Justice.
Mack takes her role within the community seriously, "My goal is to always leave a positive impact on those I encounter, and making circumstances better than I found them," said Mack. "It's important to recognize we all matter, we all are something, and we are all needed."
Mack oversaw the planning and implementation of the community justice rally and conversation with law enforcement forum during the summer of 2020. In addition to Mack's work with the NAACP Pueblo branch, she has worked with the YWCA and collaborated with many community organizations including the League of Women Voters, Human Relations Commission, Greater Education Colorado, and more.  
CSU Pueblo will also host Theresa Trujillo as a lunchtime speaker at 12 p.m. Trujillo is a community organizer with decades of experience in facilitation, deepening community engagement, and campaign management. Her passion for power building within marginalized communities has guided her to engage in disciplined, strategic practices to build democratic and collective power and to assure conditions in which a community can thrive. This is open for students, faculty, staff, and the public via Zoom. To join the lunchtime speaker, click here.
CSU Pueblo continues to include the land acknowledgment statement honoring the Native American land of CSU Pueblo, which is read at the beginning of each Martin Luther King Jr. day celebration.  Although this year is celebrated virtually the reading will be incorporated with both the lecture by Mack and the introduction of the Zoom session with Trujillo.
"CSU Pueblo wants to elevate black voices and minorities, as we are a Hispanic Serving Institution and we take pride in our role in the Pueblo community and across the southwest United States," said Obregon.
Colorado State University Pueblo is a comprehensive state university with an enrollment of nearly 4,000 students. With 34 percent of its students Hispanic, it is a designated Hispanic Serving Institution (HSI), and a military-friendly university. The university is dedicated to interdisciplinary learning and entrepreneurship that elevates its people and community, creates educational opportunities, fosters unique collaborations, and supports inclusion, access, and affordability as a gateway to the world.