Ceniza & Williams shine at NATS Auditions
Release Date: May 06, 2021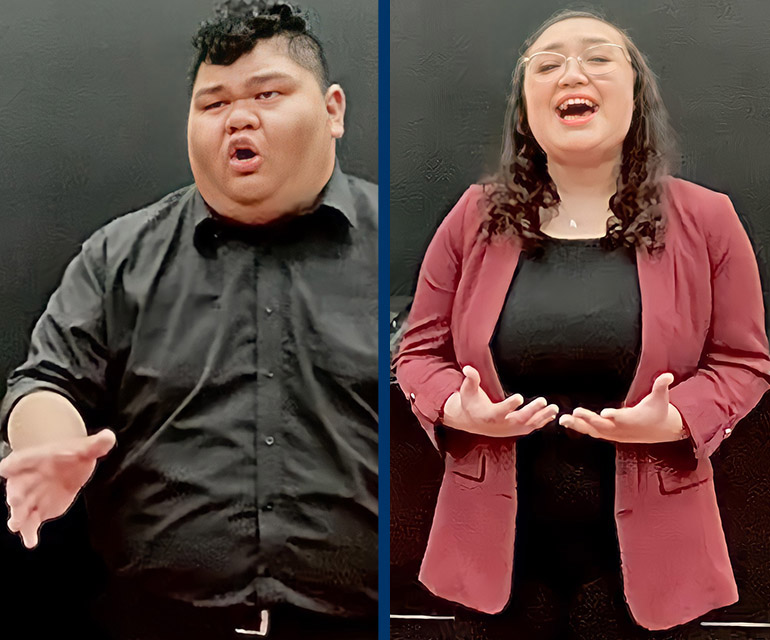 Two Colorado State University Pueblo students earned recognitions at the National Association of Teachers of Singing (NATS) Colorado & Wyoming chapter auditions.
Lawrence Ceniza won the Musical Theater category for Juniors. Carmen Williams placed fifth in the Freshman Musical Theater Category.
Both students were honored during a ceremony on YouTube May 1. Click here to see the awards ceremony.
Ceniza and Williams both submitted tapes to a virtual audition process. The competition included musical theater and vocal majors from all of the universities and colleges in Colorado and Wyoming.
Both CSU Pueblo students advanced through a preliminary round and were chosen for the finals. Three judges scored the preliminary round and three more scored the finals.
Only five students advanced to the finals in each category of the competition. Both Ceniza and Williams needed to receive a score of 90 or higher from two of the three judges or an average of 90 or higher to advance to the finals.
For his performance, Ceniza sang "Out There" from "the Hunchback of Notre Dame". Williams belted out "No One Else" from "Natasha, Pierre, and the Great Comet of 1812." 
With his victory in the competition, Ceniza earned a cash prize. The top three finalists in each category all received a cash prize.
Both Ceniza and Williams are coached by Logan Contreras. Ceniza comes to CSU Pueblo from Pueblo Centennial High School, while Williams hails Mesa, Ariz. where she attended Dobson High School.
"NATS Student Auditions are a wonderful way for voice students from high school through professional levels to receive feedback from a variety of teachers, and placing or winning a division is always a significant honor," Contreras said." We are so proud of the two students who placed and the many hours of work they put into preparing this semester's auditions while still facing many difficulties that have arose from the COVID-19 pandemic."