Colorado State University Pueblo Announces Gift from Friends of Football
Release Date: May 05, 2021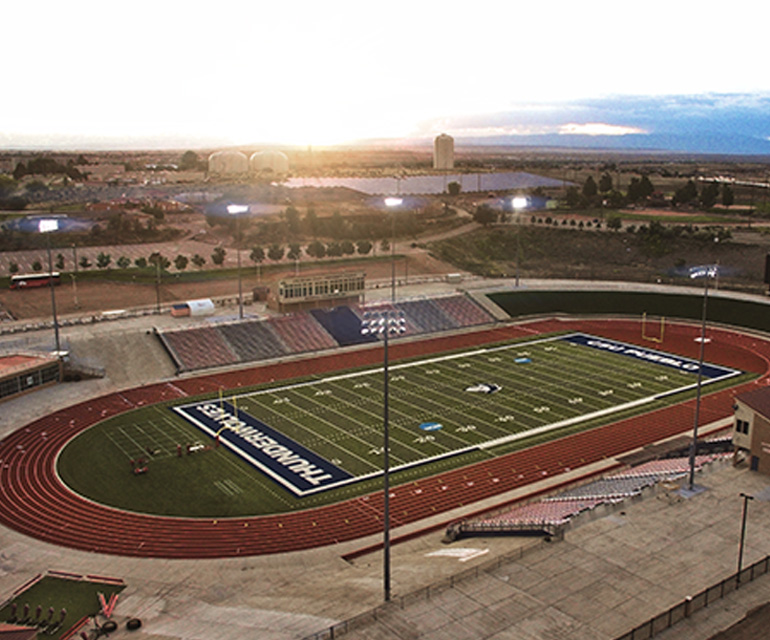 PUEBLO—A Colorado State University Pueblo private athletics-focused foundation, The Friends of Football (FOF), announced in a community message on Tuesday, May 4, 2021, the intent to donate the Neta and Eddie DeRose ThunderBowl, including all donatable assets of FOF. FOF recently voted to dissolve the organization and gift the ThunderBowl to the CSU Pueblo Foundation, pending the satisfaction of all donation details by August 1, 2021, when additional details will be made available by the CSU Pueblo Foundation.
FOF was founded in 2007 with a mission of "giving for the promotion of college football." The organization raised over $13 million to bring back football, wrestling, and women's track and field to CSU Pueblo in 2008.
According to CSU Pueblo President Timothy Mottet, "The Friends of Football, under the leadership of Dan DeRose and the entire DeRose family, has made significant contributions to our campus and this community. We are grateful for the decades of support, and we look forward to writing the new chapter for our campus and our athletics programs on the solid foundation made possible by FOF." 
The FOF gift ensures the long-term presence of the ThunderBowl as part of the CSU Pueblo campus. Though the facility is home to championship football, cross country, and track and field teams, it is also home to numerous campus-wide events, including Saturday's in-person commencement ceremonies. The university's 10-year Vision 2028, with support from the Board of Governors of the Colorado State University System, funded a $1 million track replacement at the ThunderBowl, and included another $1 million in other athletic program infrastructure and support upgrades as part of a long-term sustainability plan for athletics.
"I am excited to support the continued development of champions and to ensure that our student-athletes benefit from the generosity of the DeRose family and the many other members of the Friends of Football organization for years to come," Paul Plinske, CSU Pueblo director of athletics said.
Despite the challenges of the pandemic, CSU Pueblo student athletes have enjoyed an active spring season at the ThunderBowl, including hosting the RMAC Track and Field Championships at the end of April. On May 13-15, Friends of Football, with support from CSU Pueblo Athletics, will host the Colorado High School Activities Association (CHSAA) spring football championship games. 
The CSU Pueblo Foundation President and CEO, Todd Kelly shared his thanks to the organization, "On behalf of the CSU Pueblo Foundation Board of Trustees, I would like to thank Friends of Football and the DeRose family for their transformative gifts that have propelled CSU Pueblo into one of the fastest growing universities in the state."