Colorado State University Pueblo Offers 1000 Pfizer COVID-19 Vaccines for Campus Community
Release Date: April 14, 2021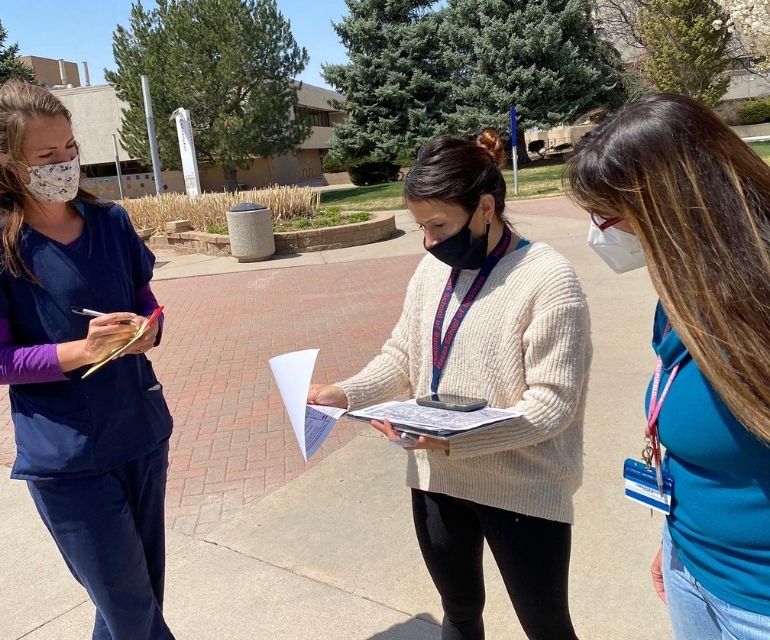 Colorado State University Pueblo has announced coordinated efforts with the Federal Emergency Management Agency (FEMA) and the Colorado Department of Public Health and Environment to secure 1000 Pfizer COVID-19 vaccinations for students, faculty, staff and campus community members at a one-day drive-thru and walk-up vaccination clinic. The clinic will run Thursday, April 15 from 9 a.m. until 3 p.m. on the CSU Pueblo campus.
According to CSU Pueblo President, Timothy Mottet, "The vaccination site is an important opportunity for our campus to offer increased protection for our community as we continue to plan for more in-person experiences during the fall semester and 2021-2022 academic year.I am proud of CSU Pueblo's response to the pandemic this past year; our campus remains dedicated to our community's safety and wellbeing."
CSU Pueblo collaborated closely with FEMA in order to stand up the vaccination site after just one day of conversation. CSU Pueblo's spring break begins at the end of classes on Friday, April 16.Campus will remain open, and all operations will continue in both in-person and remote formats, for the duration of the spring semester. Commencement will be held in an in-person format at the Neta and Eddie DeRose ThunderBowl on Saturday, May 8. More detailed summer and fall operational plans will be announced in the coming weeks.
Students, faculty and staff who participate in the drive-up portion of the clinic are asked to enter from the Bonforte Boulevard entrance and begin lining up through the W-1 parking lot near the Physics/Mathematics Building. Digital and wayfinding signage is in place for individuals who need navigation assistance while on campus.A walk-up option will be offered for individuals who may be on campus and cannot drive to the site.
CSU Pueblo faculty, staff, students and community members are encouraged to pre-register at this link: https://www.comassvax.org/client/registration?clinic_id=1527.
"We are incredibly grateful to our Nursing students, faculty and staff and to so many other team members who stepped up to plan, organize and staff the site with no more than a day's notice," said Chief Strategy Officer, Donna Souder Hodge. "Direct access to the vaccine for our students and employees has been a priority, and we are grateful for the support from FEMA and our state and local health officials," Souder Hodge said.
Vaccinations are encouraged for CSU Pueblo campus community members, but not required at this time.The COVID-19 vaccine is not widely available, and Colorado Department of Higher Education has not updated vaccination requirements to include the COVID-19 vaccine as part of the list of required vaccines for college and university students.
For more information about the CSU Pueblo vaccination clinic, please contact the CSU Pueblo COVID hotline at 719-420-0002.
Pueblo County is host to one of 12 FEMA-run vaccination sites in the United States.Vaccinations are available in Pueblo County at the Colorado State Fairgrounds, and registration is available at www.centura.org/covid-19/covid-19-vaccine-information/vaccine-events, or you may sign up for a first dose by visiting www.pueblohealth.org/vaccine and choosing the first option, "State Fair Community Vaccination Site." Registration is also available by calling 720-263-5737.