Lini earns All-State Orchestra honors at Violin
Release Date: March 23, 2021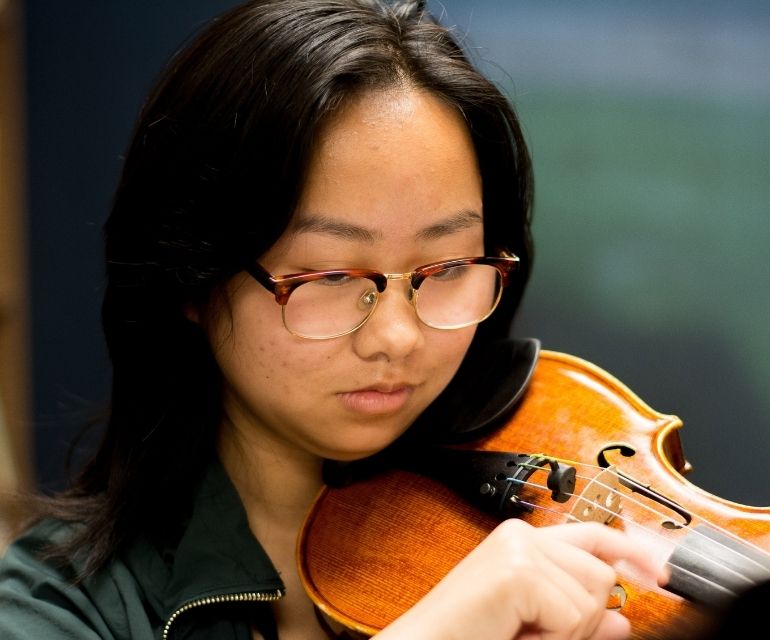 Kya Lini, a student in the Colorado State University Pueblo Music Department, will represent Pueblo and the University as a Colorado All-State Orchestra selection at the violin.
"I was happy about it because last year I didn't get in," Lini said. "My mom was really happy about it. She knew that I was bummed out the previous year. I feel really happy and accomplished that I got in."
Lini participates in CSU Pueblo's High School University Bridge (HUB) program. The HUB program allows high school students from Southern Colorado to earn college credits from the CSU Pueblo Music Department by participating in the orchestra.
"The HUB program connects a high school senior from around Southern Colorado to a college professor or college course so they can take that course as a non-college student for some credit," said. Timothy Hsu, artist in residence and orchestra director with CSU Pueblo's Music Department. "High school students are given the opportunity to experience what it would be like in a college class and I think it prepares them for the next step after they graduate."
 A student at Pikes Peak Early College, Lini travels from Colorado Springs to Pueblo twice per week to practice with the CSU Pueblo Orchestra group. Kya is the third chair, first violin in the CSU Pueblo Orchestra. She was one of just 58 violinists chosen for the All-State Orchestra.
Three years ago, Lini studied with one of Hsu's former graduate students. That student put Lini in touch with Hsu who has served as a mentor for Lini ever since.
"She asked if I would be willing to listen to Kya to help with her with some pieces with the possibility of studying with me regularly in the future,' Hsu said.
"I got into the HUB program with Dr. Hsu," Lini said. "He thought I should try it for the experience and learning about the orchestra at the college level. Dr. Hsu is very patient with me. He is very nice and helpful."
According to both Lini and Hsu, the HUB program gives area high school students an advantage in auditions by giving them experience at the collegiate level. Operated by the Department of Extended Studies the HUB program is designed to help high school students take college courses during their senior year, giving them a chance to enter CSU Pueblo's campus as a sophomore. For more information on CSU Pueblo's HUB program Click Here.
"It's helped me by advancing my skills as a violinist," Lini said. "The program I did was very different because of the pandemic so we learned more about recording our auditions and how to make them better."
Without the HUB program, Lini would have followed more traditional means to join the CSU Pueblo Orchestra. She would have participated in the Pueblo Youth Symphony as a senior. With this opportunity unavailable due to the pandemic, Lini joined the HUB program.
"It's more of the advanced music that we play that I like to experience along with all of the other students and working as an ensemble," Lini said.
"It's very exciting for our University's HUB program and for our University's music department to have a high school student be able to represent us at the all-state level," Hsu said."It's been a few years since the last string person has been able to make All-State so we are very excited about Kya's achievement."
Lini is the only strings representative of Pueblo in the 2021 All-State Orchestra. The city of Pueblo has not had a string representative in over three years until Lini earned that honor this year.
This year the audition process changed from in-person auditions to remote auditions. Lini had to submit a video of her performing scales and solo and some orchestral excerpts that were graded by a panel.
"I was very excited and very proud," Hsu said. "She worked very hard all year, especially during the pandemic.