Colorado State University Pueblo and Pueblo Community College Unite with Local Impact of Higher Education and Workforce Development
Release Date: March 04, 2021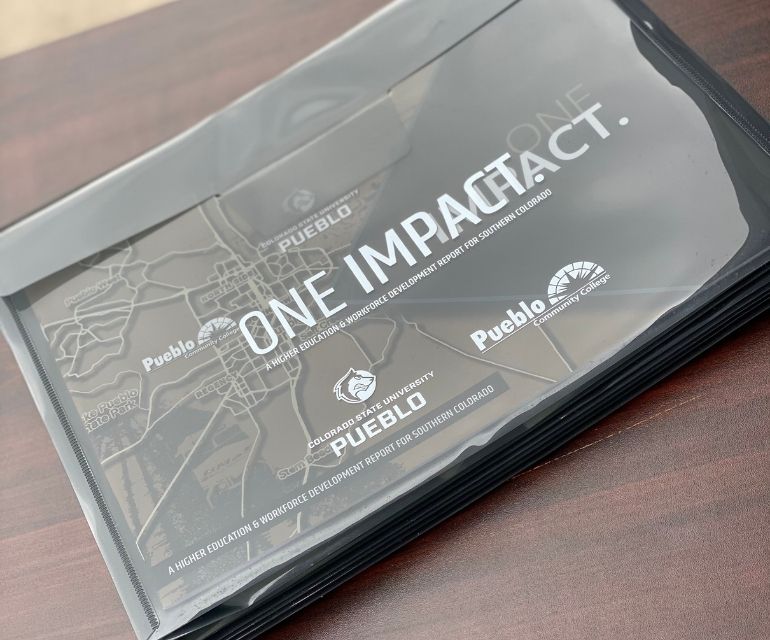 A newly-released report from Colorado State University Pueblo and Pueblo Community College demonstrates the strong impact the institutions have on the Pueblo community and the powerful effect of a united higher education community on workforce development.
Presidents Timothy Mottet of CSU Pueblo and Patty Erjavec of PCC developed the 'One Impact' report to showcase the commitment to new industry and corporate development in Pueblo with the support of the two higher education institutions. 'One Impact' details how the two Pueblo higher education institutions impact workforce development in Pueblo and Southern Colorado. Mottet and Erjavec recognize the specialized workforce needs among business and industry partners and both institutions stand ready to meet those economic development needs in the Pueblo community and surrounding region.
"Two quality institutions of higher education located in a community of our size is a tremendous asset," said Erjavec. "Our collaborative efforts ensure access, affordability and economic prosperity for all.While we have not been diligent in reporting the collective outcome of our teams in the past, we are taking the opportunity to do so now with the publication of 'One Impact'."
Between CSU Pueblo and PCC, local residents received 3,615 credentials in the 2020 academic year, including two doctoral degrees, 104 master's degrees, 694 bachelor's degrees, 741 associate degrees and 2,074 certificates. Those credentials have a direct impact on the local community, as almost 80 percent of students completing a credential at PCC remain in Pueblo and 40 percent of those earning a credential from CSU Pueblo stay in the city. The economic impact of the institutions is even broader; combined, they have 1,303 employees with a payroll of $71.8 million, primarily spent in Pueblo County.
"Both of our institutions share a passion for student success and a commitment to the economic vitality of our community," said Erjavec. "I value our partnership and applaud the faculty and staff at both institutions for the outstanding work they do to ensure seamless pathways of academic program completion for our students. The data speaks for itself and we are proud to share our accomplishments with Pueblo."
The two higher education institutions offer more than 110 academic programs to students, preparing them for professions ranging from skilled trades to entry-level service positions, as well as management and professional fields. Upon degree or credentialing completion, 76 percent of PCC and CSU Pueblo students, on average, are employed in their respective degree field or enrolled in advanced degree programs.
CSU Pueblo President Timothy Mottet shared his enthusiasm of the 'One Impact' report and the partnership with PCC.
"Our partnership today is stronger than I believe it has ever been. Our faculty and staff members have worked hard to align our programs. This alignment allows students to complete their degrees in the most time- and cost-effective way possible," said Mottet.
The announcement of the 'One Impact' report comes in conjunction with the news that CSU Pueblo is now participating in the Bridge to Bachelor's Degree Program, a program initiated by the Colorado Community College System in 2020. The Bridge to Bachelor's program ensures that new, first-time students attending any CCCS institution are guaranteed admission to a participating four-year college or university upon completion of an associate degree.
This fall, a CSU Pueblo will open a Transfer Center at PCC, allowing every PCC student to more easily plan for their four-year degree. This center strengthens the existing partnership between CSU Pueblo and PCC as the two institutions work to meet the needs of Pueblo and Southern Colorado. This expanded access provides support to students and makes a college degree more attainable and affordable.
Alan Pence, a graduate of both CSU Pueblo and PCC, now working at Vidmar Motor Company as the parts manager, shared his experience with the institutions.
"My time at PCC and CSU Pueblo has been the most eye opening and enjoyable time of my career and life.  The degrees from PCC and CSU Pueblo prepared me not only with the foundation of my field of study, but more so the idea of hope. I was prepared with the skills and knowledge to work confidently in the automotive industry and because of this, I was able to achieve employment with Vidmar Motor Company," said Pence.
PCC and CSU Pueblo are strong institutions that prepare students for their life's work. "I am very thankful to have the education and experiences, but also very proud to say I was able to attend both colleges," said Pence.
CSU Pueblo is part of the Colorado State University System and enrolls more than 3,700 students, mostly undergraduates, and many first-generation. With 33 percent of its students identifying as Hispanic, CSU Pueblo is federally designated as a Hispanic-Serving Institution. The university has additional teaching sites in Colorado Springs, Castle Rock and Todos Santos, Mexico. CSU Pueblo offers baccalaureate, master and doctoral degrees in more than 40 programs.
PCC enrolls more than 6,000 students in four locations in addition to Pueblo, including campuses in Cañon City, Mancos, Durango and Bayfield. PCC is a comprehensive community college and Hispanic Serving Institution that includes career and technical education, customized workforce development, concurrent enrollment with local high schools and transfer pathways to universities.With more than 70 programs, PCC offers associate and baccalaureate degrees, as well as certificates.