CSU Pueblo To Honor Veterans Virtually On Veterans Day
Release Date: November 10, 2020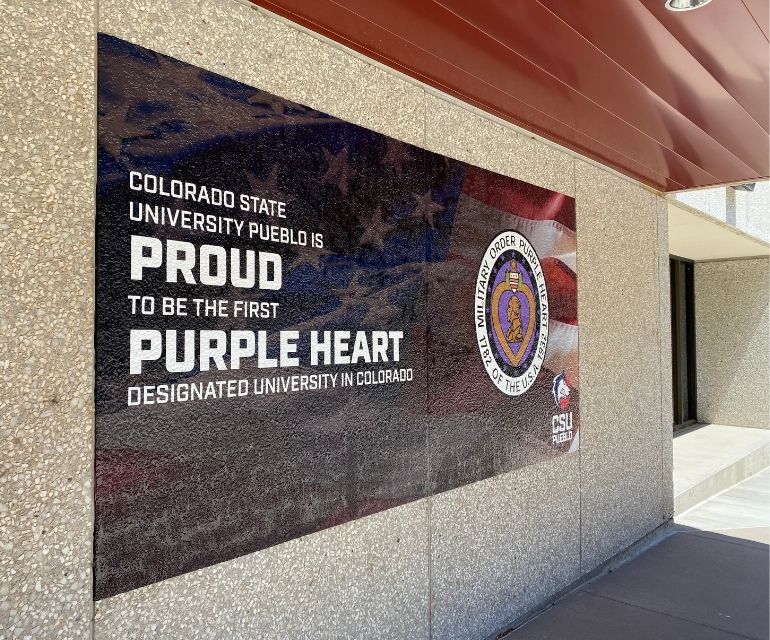 Colorado State University Pueblo will commemorate Veterans Day on Wednesday, Nov. 11 with a virtual ceremony in light of the COVID-19 pandemic. CSU Pueblo's Military and Veteran Success Center (MVSC) has partnered with the Pueblo Ritual Team, the U.S. Army Pueblo Chemical Depot and community members to bring a safe and accessible way to honor veterans for the national holiday.
"CSU Pueblo thanks all veterans for their service, and we are profoundly grateful for and respectful of those who have sacrificed much, allowing us to live in a free country," said CSU Pueblo President Timothy Mottet. "Today, we also recognize the hundreds of veteran students at CSU Pueblo who are working hard to earn their degree from Colorado's first Purple Heart University."
An opening and closing ceremony will be presented by the Pueblo Ritual Team, featuring a traditional military gun salute. President of the Colorado Senate, Senator Leroy Garcia, President of CSU Pueblo Timothy Mottet, Col. Michael Cobb of the U.S. Army Pueblo Chemical Depot, CSU Pueblo student veteran, Stephanie Dudley, veteran faculty member Grant Weller, Ph.D. associate professor and department chair of history, geography, philosophy and political science at CSU Pueblo will all speak during the video ceremony. The video link is available beginning at 8 a.m. on Wednesday, Nov. 11 at the University YouTube channel. 
CSU Pueblo recently welcomed a new director of the MVSC, Laura Barela who explained the importance of the Veterans Day celebration. "As the new director of the Military and Veteran Success Center, I am excited to be a part of this university because CSU Pueblo is proud of its veterans," said Barela. "We want to take time to thank them for their service and to honor them.We are passionate about helping our veterans and providing them the support they need to be successful in their academic goals."
A special wreath ceremony will take place to honor veterans who made the ultimate sacrifice. Veterans at CSU Pueblo's campus may show their military ID to enjoy a free coffee and bagel at Einstein Bro's Bagels on campus in the Occhiato Student Center on November 11. No other in person event will be held on campus due to the pandemic.
In addition to the virtual ceremony hosted by CSU Pueblo, the MVSC has partnered with the Pueblo Veterans Council for their ceremony in the community with Mt. Carmel Veterans Service Center. That event takes place via Facebook Wednesday, Nov 11 a.m. with more information found at the event's page.