Professor to Present on the Proposed Colorado Paid Family Leave Act as Recipient of the First Distinguished University Professor Award
Release Date: October 09, 2020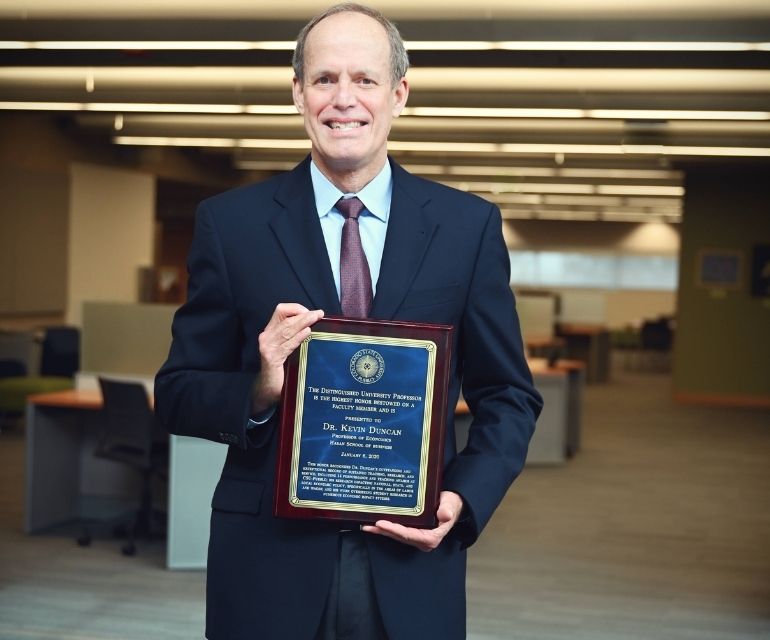 Colorado State University Pueblo professor of economics, Kevin Duncan will present a public webinar on Proposition 118, the Colorado Paid Family and Medical Leave Initiative, on Thursday, Oct. 15 beginning at 5:30 p.m. Duncan is a professor in the Hasan School of Business and is the first faculty member to receive the Distinguished University Professor award which is the highest honor bestowed on a CSU Pueblo faculty member.
The award was presented to Duncan in January and recognizes outstanding teaching, research, scholarship, creativity and service to CSU Pueblo.
"Dr. Duncan was chosen as the first recipient of this prestigious award because his teaching, research and service reflect outstanding contributions to academia and our society," said CSU Pueblo President, Timothy Mottet. "He is a teacher scholar who infuses his research into his teaching. His presentation on the current Colorado family and medical leave issue is particularly relevant to our community and I look forward to his insights into this important election issue."
The faculty recipient of the annual award will be invited to present a public lecture each year on the topic of their choice.Duncan's lecture is titled, "The Economics of Proposition 118: A Paid Family and Medical Leave Insurance Program for Colorado." After the presentation, viewers will be allowed to ask questions on the topic.The webinar is open to the public with a link via Zoom.
Paid family and medical leave insurance is a topic of growing interest due to the needs of working families and concerns over the costs of these programs, explained Duncan. "In the presentation, I will review the major features of Proposition 118 and will discuss key economic issues of the policy such as wage replacement insurance benefits, who ultimately pays for the program and solvency," he said.
Duncan received his bachelor's degree in economics from University of California-Riverside and then received his Ph.D. in economics from the University of Utah. He has been a faculty member of CSU Pueblo since 1994. His research is primarily centered on labor and regional economics. Duncan served on the Paid Family and Medical Leave Insurance Task Force with the Colorado Department of Labor and Employment in 2019 and 2020.