Colorado State University Pueblo Foundation and Alumni Association open nominations for Outstanding Young Alumni Awards
Release Date: August 25, 2020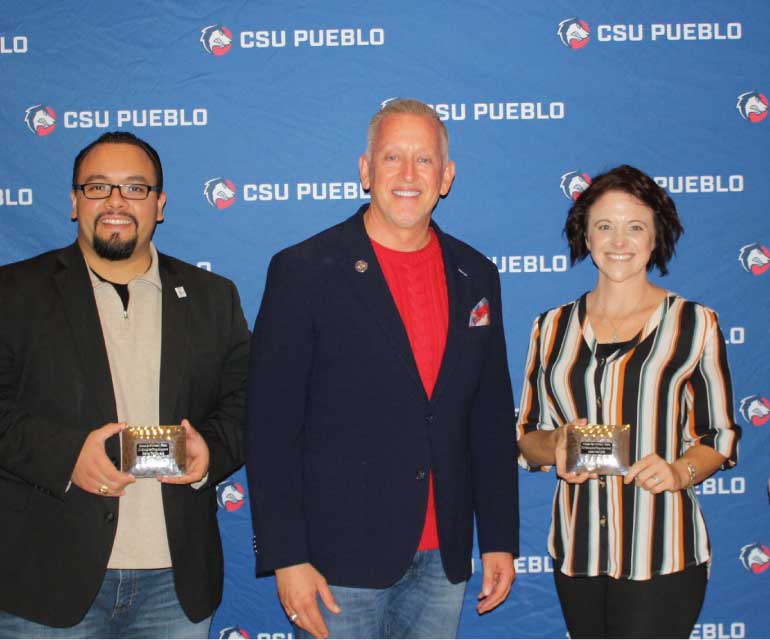 The Colorado State University Pueblo Foundation and Alumni Association are pleased to announce the call for nominations for the 2020 Distinguished Young Alumni Awards. The Distinguished Young Alumni Awards are bestowed upon alumni from each college who are under the age of 35 and have enhanced the reputation of the University and their respective colleges through outstanding professional achievement, personal accomplishment and service to CSU Pueblo and their community. Nominations will be accepted through Friday, September 18.
We are proud of what our alumni do around the world. They lead in your communities. They create new ways to serve and meet needs. They take what they learned as a student and use it to make things better in their work, where they live and for the people closest to them. Every year we highlight some of the amazing things our alumni have done and honor them during homecoming week.
"The CSU Pueblo Alumni Association appreciates the strong support and involvement from all of our alumni," said CSU Pueblo Alumni Director, Tracy Samora. "We are pleased to be able to recognize the contributions and achievements of our young alumni and are proud to have been part of their educational journey."
2019 recipients included Hasan School of Business graduate, Steven Trujillo, A12, CEO of the Pueblo Latino Chamber of Commerce; Shylo Dennison, A06, graduate from the College of Education, Engineering and Professional Studies from the Pueblo Department of Public Health and Environment; College of Science and Mathematics graduate, Christi Sperber, A14, who is a writer of children's science books; and Anna Neal, A16, graduate of the College of Humanities and Social Sciences with a career in social work.
"The CSU Pueblo Foundation is pleased to partner with the Alumni Association to recognize these outstanding young graduates of CSU Pueblo," said Todd Kelly, president and CEO for the CSU Pueblo Foundation.
The CSU Pueblo Foundation and Alumni Association annually seeks and accepts nominations for the CSU Pueblo Distinguished Young Alumni Award. The selection is made from nominees who are CSU Pueblo graduates 35 years of age or younger who have had outstanding achievement in career, public service and/or volunteer activities for their community and/or alma mater. Applications are available on the CSU Pueblo Foundation home page.
For more information on the Distinguished Young Alumni Award, contact Amber Shipley, CSU Pueblo Foundation manager of communications and events at 719-251-6117 or Tracy Samora, alumni director at 719-549-2858.