CSU Pueblo Student Pursues Activism in Pueblo Community
Release Date: June 25, 2020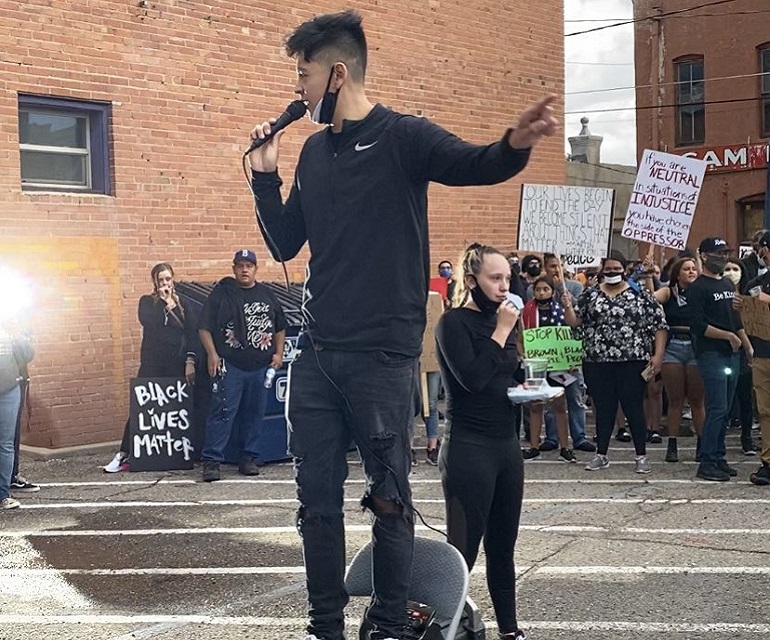 A Colorado State University Pueblo student recently co-organized the Pueblo March for Justice protest following the murder of George Floyd with a grassroots approach with a friend.
"I really wanted to see how our community was able to do a peaceful protest," said Colorado State University Pueblo junior majoring in political science with a minor in legal studies, Jacob Topping.
Topping took on the lead coordinator role for the first of several protests in the Pueblo community. He and a friend organized the protest on Monday, June 1 which took place near the Pueblo Riverwalk.
The two created a poster and began sharing on social media platforms to garner more local support. Topping cited the coronavirus, COVID-19 pandemic as an extra hurdle for spreading the word but asked participants to wear masks and bring hand sanitizer as a sign of respect to one another.
"It was really more of a grassroots idea. We just reached out to everyone we knew," said Topping. "It was really a community movement and we were just the ones that started it."
In addition to the organized protest in Pueblo, Topping and a group have e-mailed Mayor Nick Gradisar to have a meeting to discuss policies within the Pueblo community. 
On Thursday, June 18 Topping participated alongside six other community members for a local panel discussion. The panel spoke with Pueblo County Sheriff Kirk Taylor, Chief of Police Troy Davenport and District Attorney Jeff Chostner. The panel discussion was live streamed via Facebook on the City of Pueblo's Facebook page. This allowed for questions about department policies and even raised question about police reform.
Topping also participated in the Juneteenth celebration on Friday, June 19 with many in Pueblo including the local chapter of the National Association for the Advancement of Colored People (NAACP).
Topping mentioned the community activism in Pueblo has been surprising, even stating he saw one of his own professors from his studies at CSU Pueblo. Matt Harris, who has a doctorate in history and CSU Pueblo professor of U.S., American Religion, Civil Rights, Early America, Religion and Politics, attended the first protest in early June.
"I just think it's really cool people are starting to understand what the Black Lives Matter movement really means," said Topping.