TRIO Youth Programs Celebrate High School Graduates
Release Date: May 14, 2020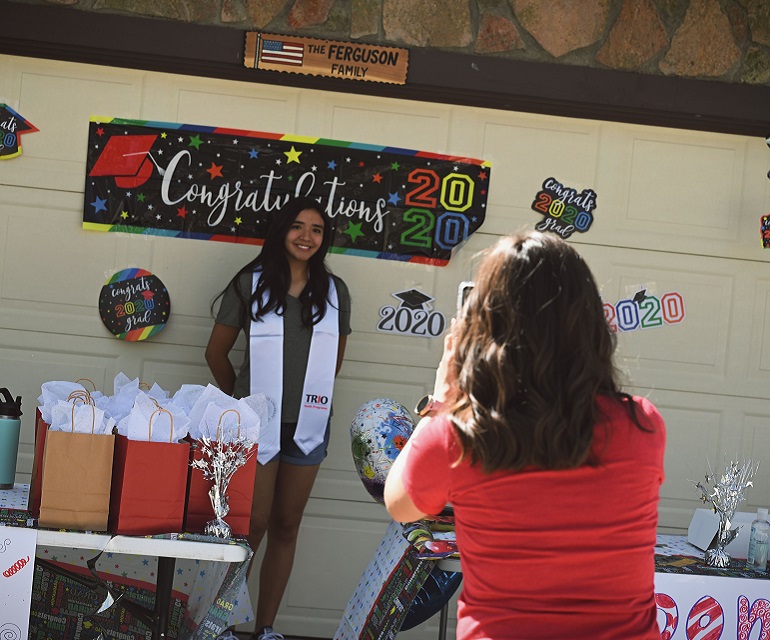 Pueblo high school students have experienced graduation parties and commencement ceremonies put on hold, cancelled or converted to a virtual affair due to the coronavirus COVID-19 pandemic.
When it was discovered a virtual graduation would take place for Pueblo School District 60 and other area high school students, Colorado State University Pueblo TRIO Youth Programs, Upward Bound and Educational Talent Search, staff quickly implemented a new way to celebrate.
Both programs, TRIO Educational Talent Search (ETS) and Upward Bound are federally funded grant programs sponsored by CSU Pueblo to empower first-generation, low-income students in Pueblo to attend college and graduate with their degree.
Programs provide high school students with support to finish their high school career and prepares them with skills to take on the next phase of their life, to pursue a college degree. TRIO staff members assist with applications, scholarships, the college selection process and other way to navigate pursuing a path of higher education.
TRIO staff quickly ordered new stoles to ensure the timing for students to virtually "walk" with the earned designation. Over 120 gift bags were put together and distributed to area high school students.
Students served by the TRIO staff include Centennial High School, Central High School, County High School, East High School, South High School and HOPE Online Learning Academy.
 "Some of these students work so hard just to graduate high school," said Gina Lopez Ferguson, Executive Director of TRIO Programs at CSU Pueblo. "They deserve to be celebrated."
Distribution began Monday, May 4 with South High School students and then a pick-up was scheduled at the north side K-Mart parking lot on Tuesday. An additional pick up was scheduled at Lopez Ferguson's house from 9 a.m. to 11 a.m. on Thursday, May 7 for TRIO ETS and Upward Bound students alike to receive their stoles and graduation gifts. 
Gift bags included a graduation stole with the CSU Pueblo crest on one side and the TRIO logo on the other and a water bottle with "college material" printed on one side. The celebration at Lopez Ferguson's house included donuts with a sign "Donut You Know How Proud We Are of You," along with streamers, balloons, photos of students with their stoles and brief conversation of shared memories with TRIO staff. 
In addition to the small in person driveway gathering, TRIO staff organized a special Zoom meeting ceremony to congratulate and honor students. Shawn Sanchez, college access advisor with TRIO, put together a slideshow and video of parents congratulating students to honor each of the high school graduates. The meeting took place Friday, May 8 to host students online and encourage camaraderie with one another.
Graduating high school students of the ETS program and Upward Bound plan to attend Colorado Mesa University, Colorado State University Ft. Collins, Colorado State University Pueblo, Pueblo Community College, University of Colorado and Colorado Springs and University of New Mexico.
 "Our job is to ensure these students graduate and then move on to get their college degree, even if it's not with CSU Pueblo we want them to attend college," said Lopez Ferguson. "For selfish reasons, I can't deny that I love when our students choose CSU Pueblo—I get to see them of another four years!"
For more information about TRIO Youth Programs like Educational Talent Search or Upward Bound please visit www.csupueblo.edu/trio or contact Gina Lopez Ferguson, Executive Director of TRIO Programs, at gina.ferguson@csupueblo.edu.